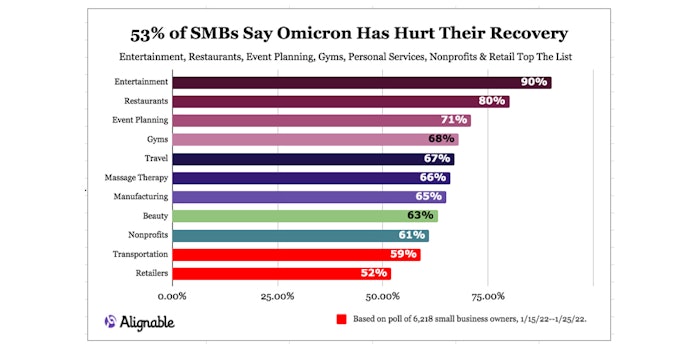 Courtesy of Alignable
According to Alignable's January Omicron Poll of 6,218 small business owners (SMBs), 53 percent of SMBs in the U.S. and 57 percent in Canada have admitted that the pandemic has negatively impacted January revenue.
The survey was conducted from January 15-25, 2022.
Due to the Omicron variant, 1 percent of U.S. SMBs and 4 percent in Canada have been forced to shut down—and those owners are unsure when they'll be able to reopen. 
Beyond that, 17 percent of SMBs in the U.S. and 25 percent in Canada declared that the variant's negative impact was "very significant." 
Many business owners noted that even though Omicron cases are declining, morale is low. Customer numbers are still down because of widespread Omicron cases, as well as the escalated fear of catching it in enclosed spaces like restaurants, theaters, offices, salons and more. 
Pertaining directly to the professional beauty industry, 63 percent of salon owners report that they are still struggling as a direct result of the pandemic.