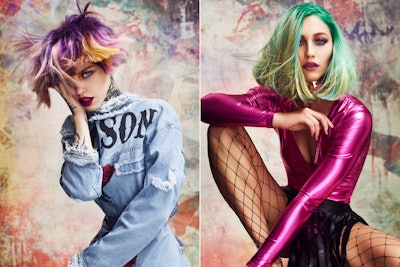 The Affinage Colour Rebels and Tracey Devine-Smith defy convention in their latest compilation.
"Inspired by London youth culture, graffiti art and street life, the Rebelution collection is a mix of defiant beauty that pushes boundaries and demonstrates creative cutting, coloring and styling at its finest," enthuses Tracey Devine- Smith of the fresh artistic endeavour from the Affinage Colour Rebels. Though the models look tough, there is a softness that encompasses the overall looks that range from completely shorn to a lavish lob. "Working as a team to get the best out of each model is my favorite part of any shoot," says Devine-Smith. "We were blown away by the end results."
Purple State (left) - The razored 'do with extreme texture and slight undercut allows for movement and balance. Color consists of deep purple roots that stretch and feather out to yellow and platinum in the textured layers.
RELATED: Affinage Held Annual DSC Conference
Green Scene (right) - A blunt lob shape with slight over-direction on the back layers creates an illusion of extra heaviness on the edges. The color—a deep blend of green and gold—is applied with a smudging technique for an even blend.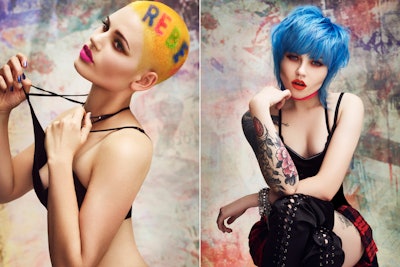 Mellow Yellow (left) - "This is a classic buzz cut," notes Tracey Devine-Smith. "The color is achieved with bleaching and toning using ASP Colour Dynamics. The stencil effect was then created using Colour Dynamics for the 'rebel' logo."
RELATED: 30 Under Thirty - 2018 Colorist Winners Photo Gallery
True Blue (right) - This head-hugging textured cut is accentuated with feathering around the edges. Color consists of a subtle melt from roots to ends, graduating from deeper to lighter blues that lend a bright denim effect.