Fashion meets hair in the most literal way in the latest collection by Matrix Stylist Michael Albor. Drawing inspiration from the world of high fashion and art, Michael created custom colored "fabric" out of wefts of hair, molded into fantastical floral shapes to become stunning, avant-garde dresses.
"The hair dresses are inspired by Oscar De La Renta," says Michael, who attended fashion school and considers the visionary designer and creative powerhouse one of his personal idols. The various hues, from pastel to vivid, were inspired by Monet's famous water lilies paintings, which Michael saw and subsequently fell in love with during a trip to the Museum of Modern Art in New York. "This collection was inspired not only by [Monet's] paintings, but also by the multi-toned colors that the logics portfolio offers us as artists," adds Michael. "I put these two [inspirations] together as this floral fantasy dress collection made out of hair. From pastels to vibrant fuchsia and cool blues, the options are limitless."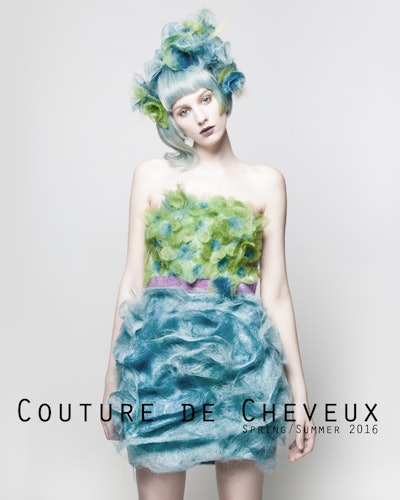 To create the stunning hair dresses, Michael colored platinum blonde hair wefts in shades drawn directly from Monet's Water Lilies before cutting the hair from the wefts and laying it out on a table top. Matrix Style Link Volume Fixer was thoroughly applied to the scattered strands of hair which was then flat-ironed to create panels. "Each panel was cut into floral designs and then glued together to create beautiful silhouettes inspired by Oscar De La Renta and Monet," says Michael.
The end result: gorgeous, avant-garde gowns that provide a perfect fusion of hair and fashion.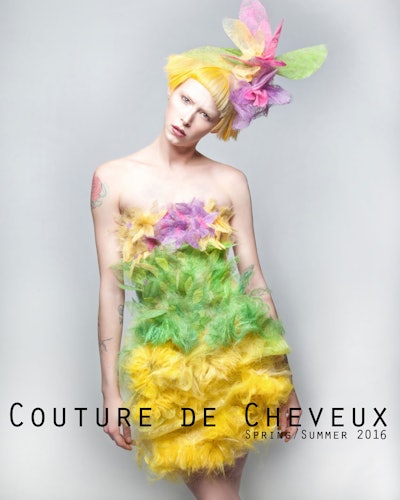 CREDITS
Hair: Michael Albor
Photography: Bob Packert
Makeup: Michelle McGrath
Models: Christine Prouty (in pink), Jennifer Ross (in blue/green), Amy Beth (in yellow/green)