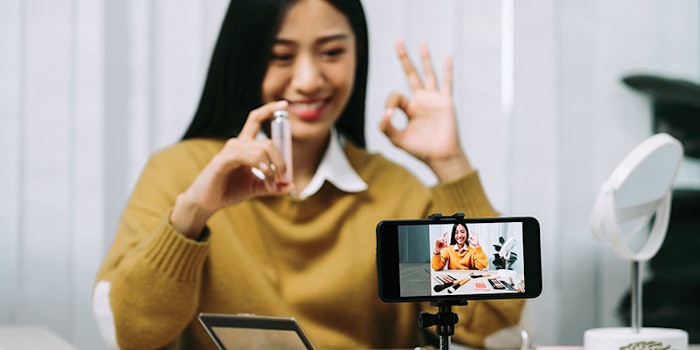 Celebrity stylist, social media beauty expert and former videographer, Olivia Thompson (@omgartistry), tells us how to identify trends and post content that follows those looks.
As a social media beauty expert and former videographer, it's my job to stay updated on what's trending in the beauty industry. Social media is a great way to stay current on trends. That being said, I find myself looking at TikTok to see what's happening in the industry. You can follow celebrities, other hairstylists and consumer influencers to see what's going viral. I use this as my market research a lot!
I also utilize a tool called Google Alerts. I have my alerts set for beauty hacks, hair hacks and viral beauty. Every day Google sends daily articles from the internet directly to my mailbox. I then have a broader and targeted alert on what is trending. I look at it as my newspaper or magazine!
Once you have the information, now you have to figure out what to do with it. Start by identifying your target audience and decide what you think they want to know about. You have all the information you need, now you'll have to be creative and find your way of delivering your message. Be sure to stay true to yourself and your values!
I had the chance to collaborate with three well-respected artists and inquired where they gain their inspiration.
Where do you turn to for inspiration and trends?
The biggest place for inspiration for me is through education. I take classes in all kinds of fields and do my best to try to learn new things. Something new I learned was crochet. I was inspired and confident in myself for learning a new skill. This mindset and confidence keeps me seeking new things and not getting stale. – Gina Sicard (@iamginabianca)
When I'm looking for "what's new," I start at home. I have two teenagers and, let me tell you, their TikTok looks way different than mine. What's viral is different for everyone, so it's good to get different perspectives. Don't forget about popular movies and shows too! I also subscribe to a lot of online magazines. They'll send a trend report e-mail that's super helpful. – Ashli Albert (@getschooledbyshli)
How can you work with clients for trendsetting content on social?
Don't be a perfectionist unless it's behind your chair. Your relationship with your client is the relationship that will help you build new clientele. When you are confident in your work and the experience that you offer, it's translated into your social media. I love the trends of posting your client's hair and what they do for a living. Involving your clients in your social media checks all boxes. Don't stay in a box of only hair — You offer so much more than that. – Sicard
How can you make sure prospective clients see your trendsetting looks?
Where would your ideal client hang out? What local businesses can you support and they'll support you back? Visit those places! Take a pic there, and post it on your story. Get to know the people that work there and invite them in for a service. When you post their hair, tag where they work and tag them. Creating connections and community will always help build your clientele. – Albert
How can I make my Instagram look great?
The "perfect" grid has been out for a while, but I find a more cohesive grid is in. To establish a cohesive grid, it's best to work off of a brand palette. I recommend having three main colors, with three secondary colors. Use these colors to build your feed. A pro tip for iPhone users is taking your pictures using the 16:9 frame to achieve clean Reel covers. You can go the extra step by creating graphics in Canva and picking brand fonts to elevate your page's look. I also recommend 3: title, body and accent. – Bridget Reddington (@bridget_reddington)
How can your make sure clients see your looks on Instagram?
Pretend you are a prospective client viewing your IG profile for the first time. Ask yourself, "Will they know my name? Can they easily find where I work/book with me? Is the content I'm posting speaking to my ideal client?" If your name is not your handle, you should have it in the "Name" section of your Instagram along with your location. Doing this makes you more searchable and likely to appear when a potential client looks up your location. It may take some soul-searching to determine your ideal client, but when you do, be sure to optimize your bio to include what you specialize in and create "Highlights" for testimonials and how to book with you. This makes it simple for potential clients to see social proof (testimonials) and book you! Two more tips are to include your suite/salon address in your post/reel captions, and, if you're looking to invest, you can always boost your posts to reach a targeted audience. – Reddington