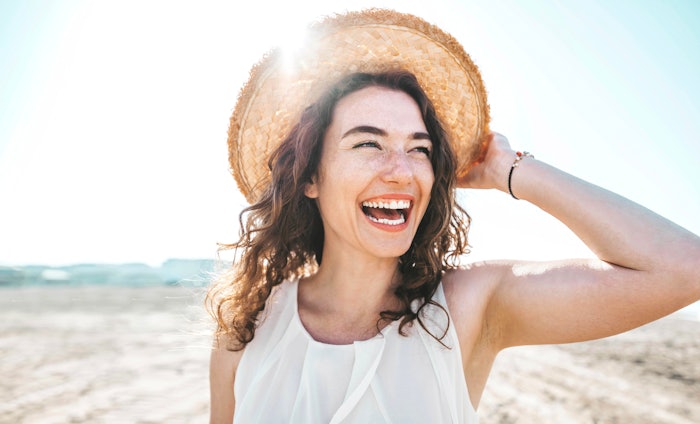 This summer, your clients may be chasing the beachy hair texture that frequently accompanies a day filled with soaking in the surf. Unfortunately, saltwater isn't all it's cracked up to be.
"It dehydrates, but in the moment can make the hair feel more textured and full," explains Mirza Batanovic (@mirza_batanovic), Eufora US style director. "Unfortunately, the side effect is that the saltwater removes moisture and nutrients from the hair. Salt itself, whether sea or otherwise, has chlorine in it, so it's quite drying, too."
Such dehydration can lead to breakage and split ends, warns Olivia Smalley (@omgartistry), not to mention tangling and dullness.
Like with chlorine, a precautionary strategy diminishes saltwater's damaging effects.
"Generously apply a hair mask to damp hair and braid it—don't rinse. It helps to create a barrier, so that the saltwater can't penetrate the hair," offers Smalley.
If your client lives at the beach, she'll need moisture and protein infused back into her hair post-ocean excursion, according to Missy Peterson (@mmpete24), Malibu C director of global education and artistry.
"If she's in the water all the time her hair will be extra thirsty. It needs slip. A great conditioner with quality polyquats (moisturizing cationic polymers) is what my recommendation would be," she says.
So, why do we seek salt-based texturizing sprays if saltwater wreaks such havoc on hair? Simply put: "Most product lines don't use sea salt or salt in their products," Batanovic reveals.
Instead, a lab-made globally compliant replacement ingredient that is safer for the hair (i.e. not as drying) creates the beachy texture clients crave, according to Paul Mitchell artistic director Heather Ka'anoi (@h_kaanoi).
"Think of it like this: You could wash your face with dishwashing soap, but you choose to use a gentle cleanser instead because it's less abrasive and less drying and includes ingredients meant for your skin type. This is the same idea," says Batanovic.
Products to Try:


This article was originally published by Beauty Launchpad in Summer 2020.