The first-ever hair color technique created by Redken Artists, Blur, is revolutionizing the industry once more with the introduction of the new Luxe Blur: three new blending techniques – Midnight Blur, Champagne Blur and Rose Gold Blur – that transform brunettes and blondes alike by providing increased dimension and radiance.
Created using the exclusive Redken Blur Brush, the three new Luxe Blur techniques blur in multi-directions two colors that have been placed in quadrant form, creating a third color with distinct shades in between. Known for his cutting-edge techniques, UK-based Redken Artist Adam Browne created Midnight Blur, which features luxe jewel tones of sapphires and emeralds blurred together to create a rich glow and maximum impact. Champagne Blur, inspired by the shimmer of champagne hues and created by Redken Artist Tina Calzaretta, features blurred highlights to create a cool blonde look. Senior Colorist at Cutler Salon Chiala Marvici is the mastermind behind Rose Gold Blur, a blurred combination of metallic tones of pastel coppers and reds on a rich blonde base that create a highly reflective shine and iridescence.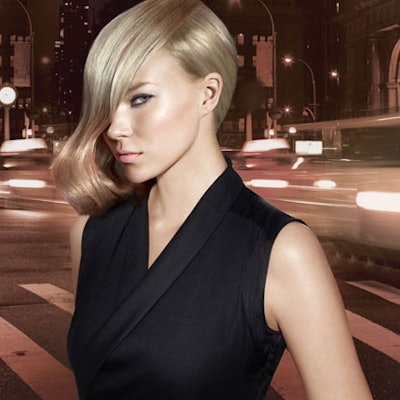 "For nearly everything in today's society, customization is seen as a necessity rather than a privilege. The introduction of Redken Blur has provided colorists with incredible flexibility and room for creativity, enabling them to create customized looks for clients that are both wearable and unique," says Redken Celebrity Colorist Tracey Cunningham. "The new Luxe Blur techniques are an 'organized chaos' that speak to a range of looks and techniques, from the romantic Rose Gold Blur and glistening Champagne Blur to a bolder Midnight Blur!"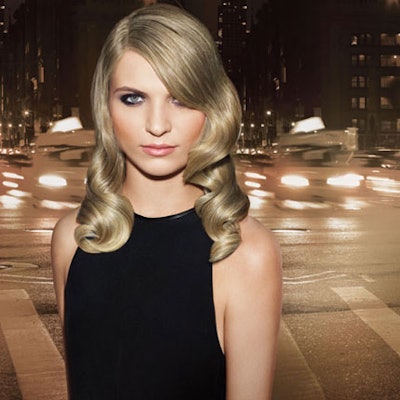 Perfect for hairstyles and hair colors of all types, the Blur techniques are created using the Redken Blur Brush, developed exclusively by Redken for an effortless blur of two different shades together to create a custom multi-tonal color. With Luxe Blur, Redken is featuring the Foil Technique Board tool, providing colorists with the stability and control they need when working with foils.
For clients who aren't ready to commit to the new Luxe Blur looks, Redken's new Limited Edition Color Rebel Naturals hair makeup, available in five natural shades, allows users to combine two shades of Color Rebel to recreate the three Luxe Blur looks at home without the commitment of permanent salon color. As the gateway to permanent color, Rose Gold Rebel Blur, Midnight Rebel Blur and Champagne Rebel Blur are the perfect way to start the conversation about color with clients who is not ready to commit to a full color service!
Recommended Formulas:

MIDNIGHT BLUR
A midnight blue and violet blur to accent the fringe.

Natural Level: 4, light brown

Base Formula 1:
2 oz. 1Ab (1.1) Chromatics
2 oz. 10 vol. Chromatics Oil in Cream Developer

Base Formula 2:
1 3/4 oz. 5Vv (5.22) Chromatics
1/4 oz. Chromatics Remixed Violet
2 oz. 10 vol. Chromatics Oil in Cream Developer

Pre-Lighten Formula:
1 oz. Blonde Idol Oil Booster
2 packets Blonde Idol Customizable Blue Powder Activator
2 oz. 20 vol. Pro-oxide Cream Developer

Blur Formula 1:
1 oz. Chromatics Remixed Blue
1 oz. Chromatics Clear
2 oz. 10 vol. Chromatics Oil in Cream Developer

Blur Formula 2:
1 oz. Chromatics Remixed Violet
1 oz. Chromatics Clear
2 oz. 10 vol. Chromatics Oil in Cream Developer

Glaze Formula (Optional):
2 oz. Shades EQ Cream Clear
2 oz. 10 vol. Pro-oxide Cream Developer

ROSE GOLD BLUR
A blurred rose-gold for a fresh take on blonde.

Natural Level: 7, medium blonde

Base Formula:
1 oz. EL-B Color Fusion Extra Lift
2 oz. 40 vol. Pro-oxide Cream Developer

Highlight Formula:
2 scoops Flash Lift Maximum Power Lightening Powder
2 oz. 20 vol. Pro-oxide Cream Developer

Blur Formula 1:
2 oz. 09RB Blush Shades EQ Gloss
2 oz. Shades EQ Processing Solution

Blur Formula 2:
2 oz. 09RB Blush Shades EQ Gloss
2 oz. Shades EQ Processing Solution

Glaze Formula (Optional):
2 oz. Shades EQ Cream Clear
2 oz. 10 vol. Pro-oxide Cream Developer

CHAMPAGNE BLUR
Shimmering blurred highlights for NYC's coolest blonde.

Natural Level: 6, dark blonde with existing highlights.

Blur Formula 1:
1 oz. Beige (.13) Blonde Idol High Lift Conditioning Cream
2 oz. 30 vol. Pro-oxide Cream Developer

Blur Formula 2:
1 oz. Violet (.2) Blonde Idol High Lift Conditioning Cream
2 oz. 30 vol. Pro-oxide Cream Developer

Glaze Formula:
2 oz. Shades EQ Cream Clear
2 oz. 10 vol. Pro-oxide Cream Developer