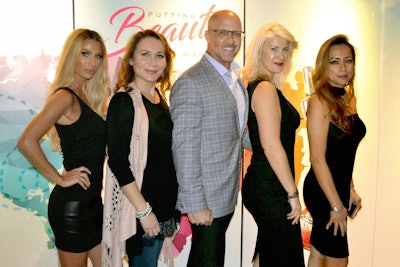 Cosmoprof North America (CPNA) hosted an exclusive sneak peek of trend-directional brands from around the world at New York City networking spot, the Library at NeuHouse on June 5th. The event, Putting Beauty on the Map, featured 11 specifically-curated beauty products represented from across three continents. The trend-directional brands were selected for their unique attributes and global appeal. All featured brands will be on display at the upcomming exhibition taking place at Mandalay Bay Convention Center in Las Vegas July 29-31.
"Cosmoprof North America is the only truly global beauty business platform which provides us the unique opportunity to give the industry at large a one-of-a-kind chance to see the best kept secrets from all corners of the globe " said Daniela Ciocan, Marketing Director of CPNA. "This sneak peek into trends on display at our upcoming fair will be for some of the guests a way to get a small tasting of the show even if they can't make it to the July event."
The event was attended by leading consumer and beauty industry media, retail buyers, beauty investors and social influencers. In addition to being able to explore each product, attendees could also have special beauty treatments performed provided by Beauty Tribe; RealHer and Bijoux De Pele. Guests were sent home with a gift bag valued at nearly $800 that included all featured products.
Featured brands included the following:
"The preview events we host are a great way for brands to gain early momentum and for retailers, buyers and media to get early access to the next rising starts in beauty," said Ciocan. "The concept of Putting Beauty on the Map stems from the fact that CPNA truly puts on the map and radar of the beauty industry cool up and coming new comers from all over the world. We bring the world of beauty to the industry and our attendees come to expect to discover at our event the latest and coolest in beauty."
To learn more about CPNA or for registration and show updates, please visit its website.
[Image courtesy of CPNA]