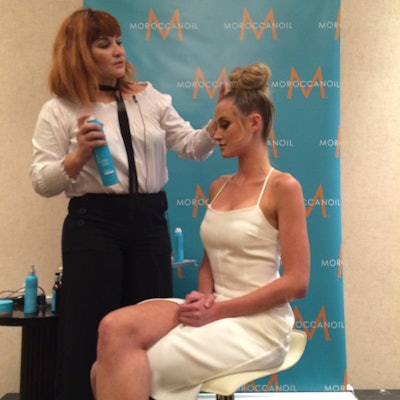 Sweis Inc. Professional Salon & Spa Products Distributor recently hosted the Moroccanoil Road Show, a hands-on education event and debut of the brand's first cutting collection. The event attracted nearly 100 salon professionals, some coming from as far as Las Vegas, to the Double Tree Hotel in Santa Ana, for a full day of immersion in Moroccanoil cutting and styling. Moroccanoil top artists, including Kevin Hughes, Global Ambassador for Moroccanoil, Martin Plascencia, Creative Design Team & NY Academy Educator, and Jessica Ortega, Regional Education Manager Western US & Canada, offered a cutting or styling education session equipped with doll heads, products and tools. Salon professionals in attendance had the opportunity to experience all three sessions through a rotating schedule that also included lunch and time to meet with the artists.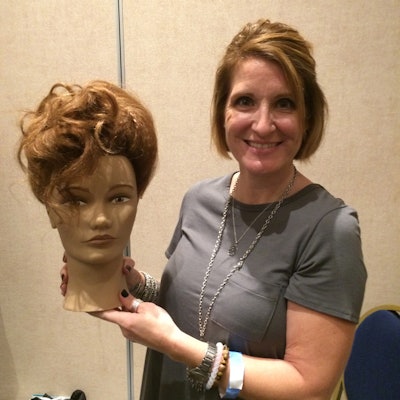 Session 1 - Kevin Hughes, Signature Cutting (Textured Bob)
The Signature Cutting course introduced Moroccanoil cutting terminology and methodology. Line, layering and graduation are interpreted and perfected through consultation and craftsmanship. Participants practiced hands-on point cutting, adjustable for various face shapes, along with styling and finishing techniques.  
Session 2 - Martin Plascencia, Graphic Collection (Precision Bob)
This Moroccanoil Haircutting course is inspired by the salient symmetry of Mediterranean architecture and is dedicated to the development of precision, graduated lines. Techniques are designed to improve haircutting skills, not limited to the creation of specific cuts. Attendees created two graduated, styled haircuts utilizing styling and finishing techniques.  
Session 3 - Jessica Ortega, New York Collection
Inspired by the iconic New York fashion personas, this collection inspires stylists to achieve and transcend a new level of craftsmanship through interpretation of subtle detail. Stylists previewed collection looks, including a modern French twist, knotted Mohawk and tousled braid and neo-bohemian braided style. Working under the guidance of Ortega they recreated select looks on mannequin heads.
"Moroccanoil selected Orange County as the prime location to introduce their new cutting collection to the West Coast," said Karl Sweis, President of Sweis Inc. Professional Beauty Distributor. "That was a great decision because the salon professionals who attended were very happy with their experience. Many commented that they learned valuable new techniques that they could use immediately."
"The Moroccanoil Academy Roadshow was our first time introducing stylists on the West Coast to our haircutting methodology," added Jessica Ortega, Regional Education Manager Western US & Canada. "The setting of having three-hands rotating classrooms in the day made for a unique learning experience. We were so thrilled to launch our curriculum that has been in development and for the opportunity bring the Academy to Southern California for our partnering salons with Sweis Inc."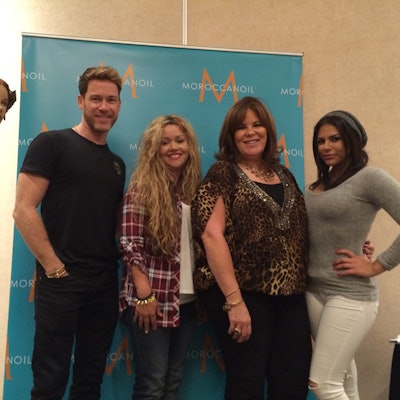 Stylists also offered their feedback. Heidi Ksturch, stylist at Via Salon and Day Spa, said, "I was impressed with the efficiency, positive energy, organization, edgy, yet classy vibe and the open, interactive learning. The artists were fun and knowledgeable and the cutting was off the charts amazing. It was totally worth the investment!"
 
"I am a big fan of Kevin Hughes," added Linda Tibbs, Prism Salon, Henderson, NV. "His techniques are amazing and he gave great usable information that I could start using right away."
"I am newer to the Moroccanoil brand, but I came because my Sweis rep, Kara, recommended that I come. I have felt totally out of my comfort zone, but have learned so much. I was especially excited to learn the new braid techniques," said Janice Hoisington, Mirror Mirror, Henderson, NV.
For more information on upcoming Sweis Academy educational opportunities visit www.sweisinc.com.