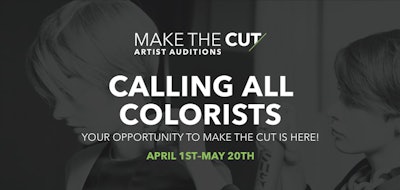 Goldwell is inviting hairstylists from around the country to audition for a chance to join the Goldwell Artist Network - one of the most talented, dedicated, creative and inspirational education teams in the world. "Make the Cut" is a nationwide talent search to find some of the top stylists across the United States to bring passion and inspiration to the haircare industry.
HOW IT WORKS:
As a member, you will act as an ambassador for the Goldwell brand, providing trainings and hands-on education to Goldwell's salon partners. You will gain amazing career opportunities, including the chance to work with some of the best-known artists and educators in the industry. You will also demonstrate new color techniques at various venues across the country, to share your skills, creativity and enthusiasm with others.
 
REQUIREMENTS*:
2 years behind the chair and valid license
Strong color and finishing skills
Basic understanding of cutting and styling
Strong presentation and communication skills
Must be eager to learn/share
 
APPLY TODAY!
Go to www.Goldwell.com, create a unique username and password, and submit an application. You will need to provide detailed information about your background, experience and qualifications, and support it with a video submission, collection of images and documents (Note: You have a chance to save your information for later during every stage of the application process). Everything must be submitted by 5:00pm EST on Friday May 20, 2016.
 
If you're selected to move through to the next round of the competition, you will be notified on or about June 2, 2016. As a finalist, you can travel to a regional event for a live audition, where you will recreate a look on stage before our expert panel of judges (An RSVP to the regional event is required by June 6, 2016).
 
* For a full list of requirements, please visit www.Goldwell.com.