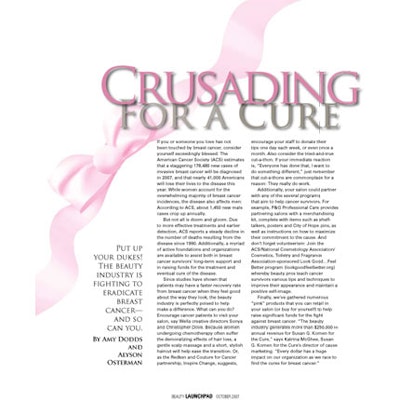 Put up your dukes! The beauty industry is fighting to eradicate breast cancer—and so can you.
If you or someone you love has not been touched by breast cancer, consider yourself exceedingly blessed: The American Cancer Society (ACS) estimates that a staggering 178,480 new cases of invasive breast cancer will be diagnosed in 2007, and that nearly 41,000 Americans will lose their lives to the disease this year. While women account for the overwhelming majority of breast cancer incidences, the disease also affects men: According to ACS, about 1,450 new male cases crop up annually.
But not all is doom and gloom. Due to more effective treatments and earlier detection, ACS reports a steady decline in the number of deaths resulting from the disease since 1990. Additionally, a myriad of active foundations and organizations are available to assist both in breast cancer survivors' long-term support and in raising funds for the treatment and eventual cure of the disease. Since studies have shown that patients may have a faster recovery rate from breast cancer when they feel good about the way they look, the beauty industry is perfectly poised to help make a difference. What can you do?
Encourage cancer patients to visit your salon, say Wella creative directors Sonya and Christopher Dove. Because women undergoing chemotherapy often suffer the demoralizing effects of hair loss, a gentle scalp massage and a short, stylish haircut will help ease the transition. Or, as the Redken and Couture for Cancer partnership, Inspire Change, suggests, encourage your staff to donate their tips one day each week, or even once a month. Also consider the tried-and-true cut-a-thon. If your immediate reaction is, "Everyone has done that; I want to do something different," just remember that cut-a-thons are commonplace for a reason: They really do work.
Additionally, your salon could partner with any of the several programs that aim to help cancer survivors. For example, P&G Professional Care provides partnering salons with a merchandising kit, complete with items such as shelf-talkers, posters and City of Hope pins, as well as instructions on how to maximize their commitment to the cause. And don't forget volunteerism: Join the ACS/National Cosmetology Association/Cosmetics, Toiletry and Fragrance Association-sponsored Look Good…Feel Better program (lookgoodfeelbetter.org) whereby beauty pros teach cancer survivors various tips and techniques to improve their appearance and maintain a positive self-image.
Finally, we've gathered numerous "pink" products that you can retail in your salon (or buy for yourself) to help raise significant funds for the fight against breast cancer. "The beauty industry generates more than $250,000 in annual revenue for Susan G. Komen for the Cure," says Katrina McGhee, Susan G. Komen for the Cure's director of cause marketing. "Every dollar has a huge impact on our organization as we race to find the cures for breast cancer."
—Amy Dodds and Alyson Osterman