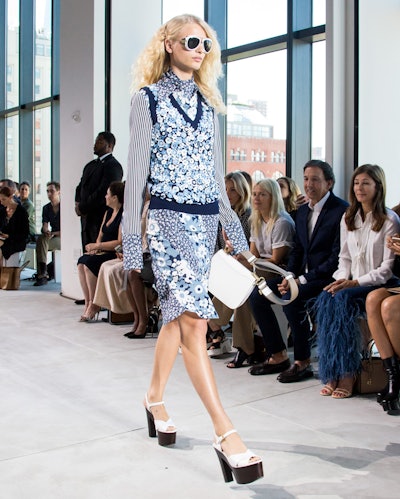 As New York Fashion Week Spring/Summer 2017 gets underway, multitudes of designers, models, magazine editors, makeup artists and hairdressers are buzzing with excitement over the next season's trends. The impact this event has on the average salon has shifted massively in the past 10 years, with the pace at which its influence trickles down into the average consumer's life slowing significantly. Due to the fact that most people are turning to their Pinterest app rather than Vogue or W to research the latest trends, the source of the material many of our guests are most influenced by has changed. Now, clients could be influenced by the opinion of a young, talented blogger that has no concrete connection to the fashion world versus a professional magazine editor that has been sitting in the front row of every major show for the past 20 years. Is this good or bad?  Well, as with all change, there are both challenges and benefits to the new reality of runway.
There is an air of disruption rippling through the fashion industry about changing the fashion schedule, combining the men's and women's seasons, and allowing consumers to order straight from the catwalk. Yet, rising above the noise and slowing down the pace is couture - designers and consumers are warming to well-crafted, hand-finished methods. The idea of couture, creating something unique by hand, has a lot of appeal. Designers are adding this type of detail to set their designs apart or give them a unique quality. Now, what are you doing behind the chair to add value to your service? Think of value as details and/or knowledge, and share this information with your guests in the form of hot tips and tricks.
Here's the big opportunity for you as a hairdresser – now, more than ever, you get to become a resource to your guest! Because many of the people in your chair will not be researching or following what's happening at New York Fashion Week, and many of them are not picking up traditional magazines that would have covered the event, you now get to be that connection. Some of you may be thinking, "My clientele doesn't really care about high fashion and a lot of them never want to change anyway." Your role is to adapt what you learn to your community. Just because the newest trend is super short, aggressively choppy fringe patterns, that doesn't mean your more conservative clients can't dip their toe in those waters! Even the "ready to wear" fashion collections that actually make it onto store shelves are more consumer-friendly adaptations of high-impact runway looks. So, offer something fresh to your clients inspired by Fashion Week's hottest trends while finding a way to rework these styles so that they fit more comfortably into your neighborhood. Imagine how this will set you apart from other stylists in your area - or even in your own salon!
Fashion is one of many things that influences hair trends. I love to look at the silhouettes of clothing as inspiration and then transfer that to my craft. For example, skirts get wide so I make hair wide; detached fabrics lead to detached haircuts. I will never forget working one Fashion Week and asking the designer where their inspiration came from. The response was, "When a decade becomes 20 years old it becomes fashionable again." I loved that - what was once old becomes new again, but with a modern twist to make it fresh. We often reach to the past as inspiration to create the future, and I believe the past is where we learn while the future is where we apply our knowledge. There are always signs of the past influencing the present in our culture - continue to take what you see or hear and make it "ready to wear" for your market.
Aspire for more!
-Sam