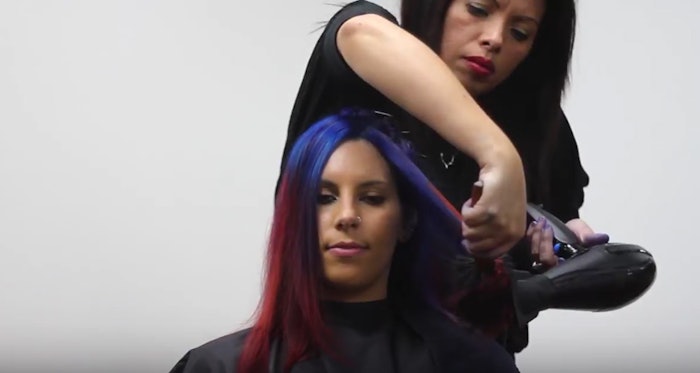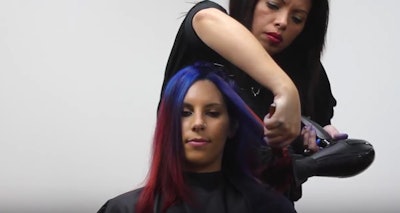 Before colorpHlex, I would get pictures brought to me of "The Rachel" or whatever hairstyle the latest Hollywood "IT" girl was sporting. Now I have noticed the trend shift. Women are no longer conforming to the trendy looks seen in magazines or in the media. Today, more women choose to pick unique color combinations that stand out instead of blend in. It's almost like a rebellious stance that woman are taking: to be unique and to let their own hair "personalities" shine through.
This new rebellious attitude and this incredible new category of bond building has paved the way for stylists, like myself, to brake the "rules" we were taught in beauty school and has opened up the opportunity for all of us to become artists in our own right.
When colorpHlex came to me with the idea of 4 colors in 4 weeks, I was very excited to be part of a project that would allow me to push my boundaries and use my creativity as a stylist and an artist. I wanted to do more than just global application colors. I wanted to create a beautiful sunset, the ocean, fire, etc. I also wanted to show that now was the time in our industry where you could finally break away from the "no-no" colors we all learned about in beauty school, and let me tell you it felt great!

1.    RULE 1 – Avoid Green and Orange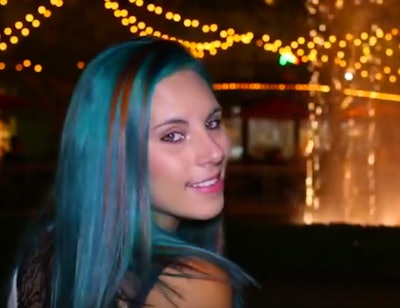 They say green is a "no-no". They also say be careful of orange, so in week two I combined both and the results were incredible. Now you no longer have to worry about green or orange, you can make these and any other colors look vibrant.

2.    RULE 2 – Don't bleach the color out of hair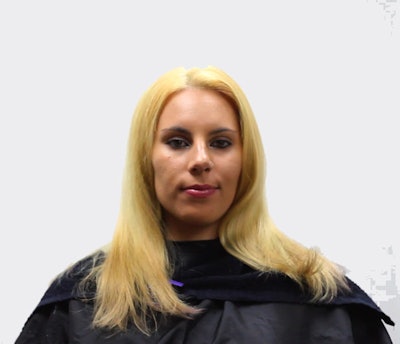 They say you should never bleach the color out of your client's hair, but I used bleach each week. I did however use bleach with zero lift intentionally because those were the manufactures instructions.

3.    RULE 3 – Be cautious with beach to avoid damage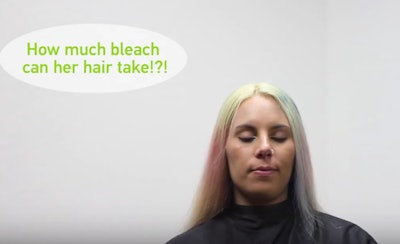 Before colorpHlex when my clients wanted to go lighter, I would have to have them come back in over and over again to achieve their desired results because I did not want to damage their hair. Now I can reach my clients desired results without worrying about damage. ColorpHlex repairs damage throughout the coloring and lighting process and actually leaves your hair 4 times stronger.
Gone are the days of basic global color applications, basic highlights/low lights, basic ombre's or the dreaded manic panic one tone fashion color that lacks dimension. Now stylists can combine colors together in sections or panels to create Van Gogh's Starry Night or Water Lilly's by Monet.
Before 4 colors in 4 weeks, our model Kimberly had virgin hair. Each week, per manufacturer's instructions, I used PRAVANA zero lift bleach and mainly used their VIVIDS collection.
Week 1:  I used the PRAVANA LOCK-IN Purple as the base and wove in pink, wild orchid highlights and pulled the purple through in parts of the weave. Her hair was virgin before the first process and it turned out strong, healthy, shiny and didn't feel like it went through any sort of color or lightening process.
Week 2: I used PRAVANA VIVIDS Green and Orange on her hair. After the second treatment her hair still felt strong, healthy and shiny. It once again did not feel like it had gone through any sort of color or lightening process.
Week 3: I used PRAVANA VIVIDS blue, red and orange. Again, her hair turned out vibrant, strong, and looked healthy. You could start to slightly tell that her hair had been processed but her hair remained in great condition and had no damage.
Week 4: I used PRAVANA VIVIDS violet for the base and mixed highlights with wild orchid, magenta, and pink. In a separate bowl, I also mixed magenta together with the pink to create a custom pink color as an additional highlight. After the 4th week, her hair felt like it had gone through a color and lightening process, but it was not damaged, and I didn't shy away from using any sort of hot tools on her. Her hair maintained its health, shine and vibrancy.
In between color treatments, I gave Kimberly the colorpHlex Home Care kit (containing shampoo, conditioner, and Nv Leave-in, that are all formulated with the same ColorStrong Complex™ as colorpHlex and had her style with Marrakesh Oil Elixir.
This whole process was a very exciting experience for me, Kimberly and those who are closest to us. I can't explain the excitement on Kimberly's friends and boyfriend's faces each week when she showed up with a new color and I sure can tell you, my colleagues and friends couldn't wait to see what color combinations I would come up with each week and how the results looked after the process was complete.
Overall, the 4 colors in 4 weeks experience has opened my eyes to the amazing possibilities a stylist has today. We now have the ability to break the rules without breaking bonds and create never seen before color combinations. Being able to express our artistic sides and having our clients embrace this new trend of experimentation with their hair is only possible because of colorpHlex.  
See the 4 Hair Colors in 4 Weeks video HERE!