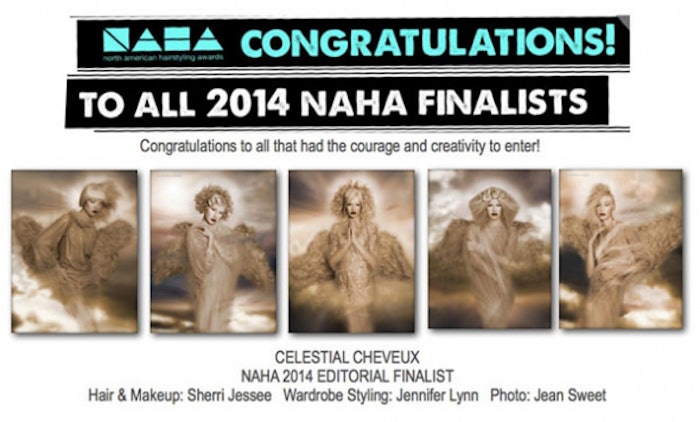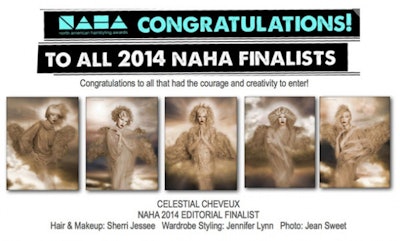 I was thrilled when fabulous photographer, Jean Sweet, offered to collaborate with me. My NAHA nominated "Celestial Cheveux" collection was a few years in the making…a true labor of love. You see, large collections can take a great deal of time to nurture from concept to creation. I had been sketching out designs for interesting hair shapes for nearly a year and gathering the materials needed.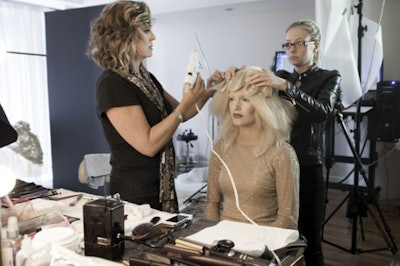 My daughter has the most beautiful hair. When I told her one day that she had the hair of an angel that became the inspiration of my collection… What type of hair do angels have in heaven? What if they had wings made of hair? I had been working on creating a collection of interesting hair shapes and decided to make them angelic. All of the hair was colored in soft beige platinum and I crafted wings covered in various textures of matching hair.
It took days of viewing model portfolios to make my final model selection of the 5 beauties that would star in my angel collection. I had to carefully pack for the flight from Virginia to Chicago, IL anticipating every item needed for both the hair and the makeup.
To prepare model Kelly's hair, I first retouched her re-growth with a high lift blonde and 40 volume developer which processed 45 minutes. For the style, I created a horseshoe-shaped section from temple to temple and micro-crimped the top area using a SAM VILLA TEXTUR IRON. I applied a generous amount of a Molding Paste to the bottom section and carved in finger waves on each side with a cutting comb.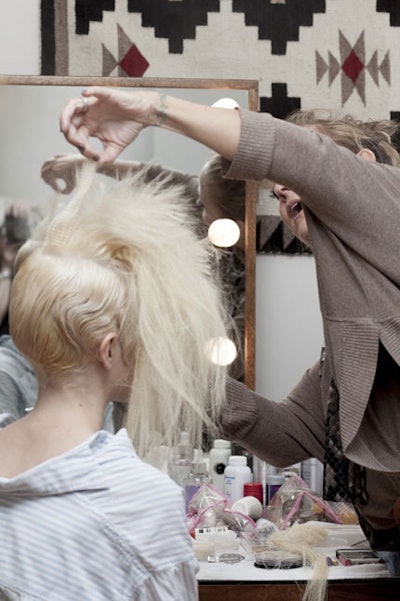 I added extensions to the top to create a more dramatic fringe and brushed through the crimped hair to release the beautiful frothy texture. Each model had their own unique hair shape. I worked on this creating the shapes for the hair in this collection for over a year by sketching out shapes, coloring cutting and creating various textures.
I wanted the makeup to also echo the etherial theme so I used a Temptu Airbrush system to create pale skin. I even sprayed hands and arms, where needed. I although the face and eyes were mostly white, I used matte browns and pinks to create depth and dimension to accentuate each model's beautiful features.
I used white mascara on the model's lashes. For more drama, I added false strip lashes that I had painted with white acrylic paint. I like to use a lip brush to apply lip color very carefully and I chose deep red tones to provide balance with the light eyes.
For a unique, powdery texture on the skin and hair, I used a dual tipped powder brush to dab on lots of baby powder.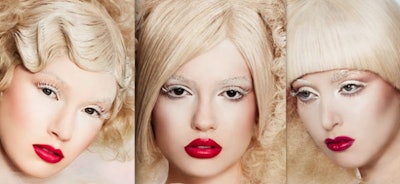 The wings were so heavy with all of that hair so rather than putting them on the models, wardrobe stylist, Jennifer Lynn decided to suspend from poles and the models stood in front of the wings to look as if they were wearing them.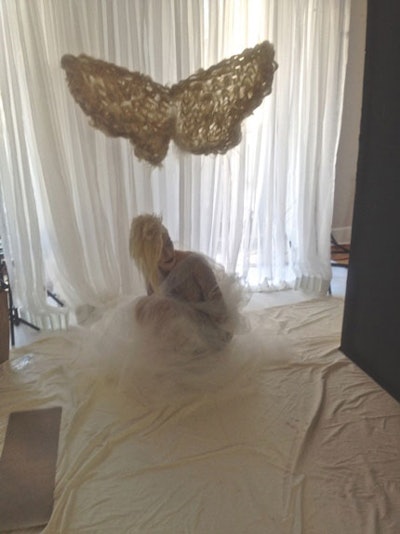 Jennifer Lynn, brought in gorgeous designer dresses in golden beige and wrapped the models in yards and yards of chiffon tulle.
After the shoot, Jean and I went through the hundred of shots to choose our favorites. It is interesting how often one or two images of each look automatically stand out from the crowd making it easy to choose a few favorites. You can see we did the shoot in front of a shirred white curtain. Jean later added the AMAZING backgrounds in post production. I can't even begin to imagine how long it took her to create 6 different celestial, clouded backgrounds. The full color versions were absolutely gorgeous.
I knew I wanted to submit the collection to Dark Beauty magazine. This prestigious publication features some of the most amazing photography in the world. I toned down the colors in the various images to create a collection with a moodier appearance to be cohesive to the magazine's darker, edgier tone.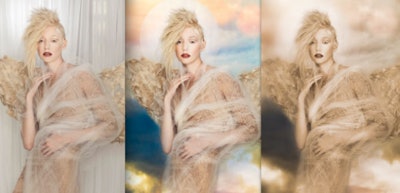 You can see here the transition of the images. Left is the raw, un-retouched image. Center photo is the full color version. Pictured right is an image with muted tones.
Wardrobe stylist Jennifer Lynn was kind enough to share some of her insight on her contributions. She says, "It was a pleasure and privilege to collaborate with Sherri on the series, she brought a pure angelic innocence to the set with her well honed hair and makeup craftsmanship.
The color palette helped set the mood for the spread, it was about picking pieces that blended into the background so Sherri's hair masterpieces stood out.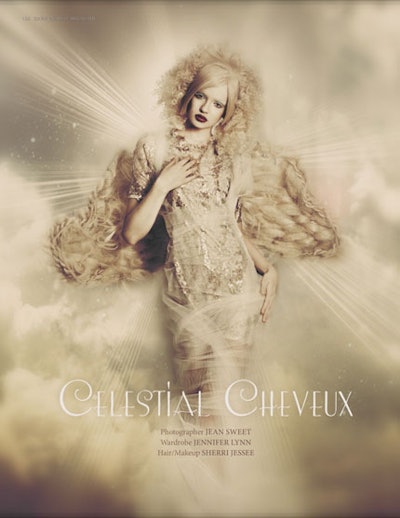 Sherri made creating this spread easy, her direction and concept was divine, literally. Everyone in the team was on the same page and although it didn't physically come together until she arrived in Chicago, it was something we worked on via email and text going back and forth until she stepped on set.
From the waves of the hair to the flow in the outfits to the hills and valleys in the hair wings, it was about balance and beauty in every way. I am thankful to be part of Sherri's team on this, it was such a pleasure and we are excited she has been nominated as a NAHA '14 editorial finalist!"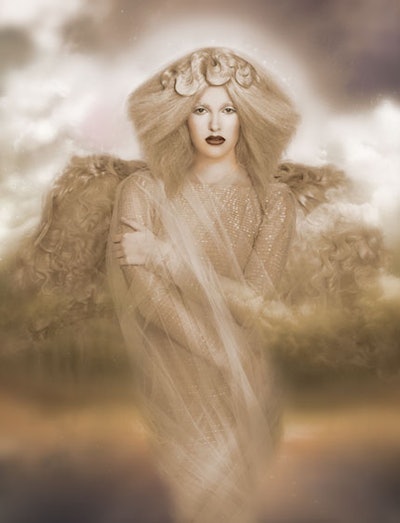 Further commentary from photographer Jean Sweet, " I wanted to work on a project with Sherri because of her immense talent and creative drive. When Sherri arrived at my studio with the angel wings and platinum wigs with her fantastic hairstyles, I was so inspired with her concept, art direction. Sherri's work as hairstylist and makeup artist during the shoot motivated the entire team towards creating something very special. I photographed the angels on a white background with backlighting that created a glow around the shoulders and head.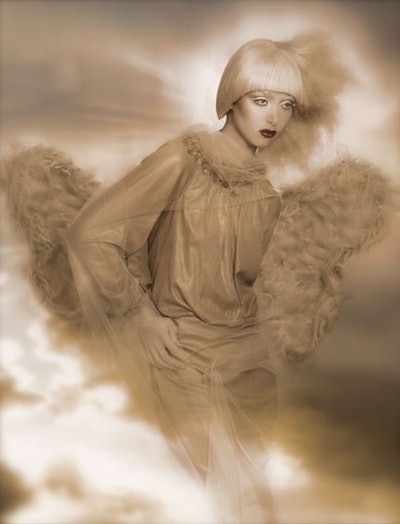 The stylist, Jennifer Lynn had the great idea of wrapping white tulle around the models who were dressed in gold and off-white. When I began to retouch the images, I created a digital composite blending heavenly clouds and sky in the background which wrapped around the angel bodies. After finishing the original color version of the angels with the heavenly background, the photos became like a surreal painting. Sherri's brilliant idea of converting the images to more monotone in color to fit the style of Dark Beauty Magazine assured her the editorial coverage that would win her the NAHA nomination.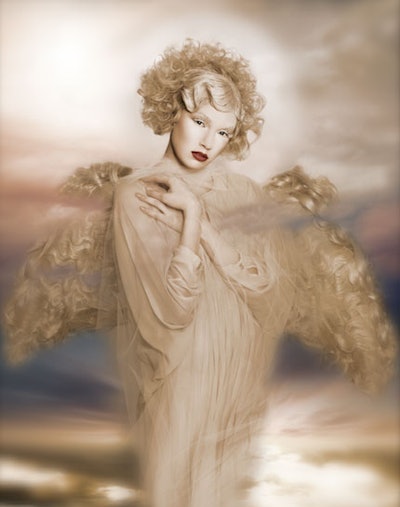 I am very pleased that the original color images were published in Hot by Hair's How, December 2013 issue and elated that Sherri is nominated for 2014 NAHA Editorial Stylist with the "Celestial Cheveux" editorial story published in Dark Beauty Magazine. It was a great collaboration, thanks to Sherri Jessee and stylist Jennifer Lynn. Sherri deserves the recognition as a NAHA finalist."
For more info www.sherrijessee.com