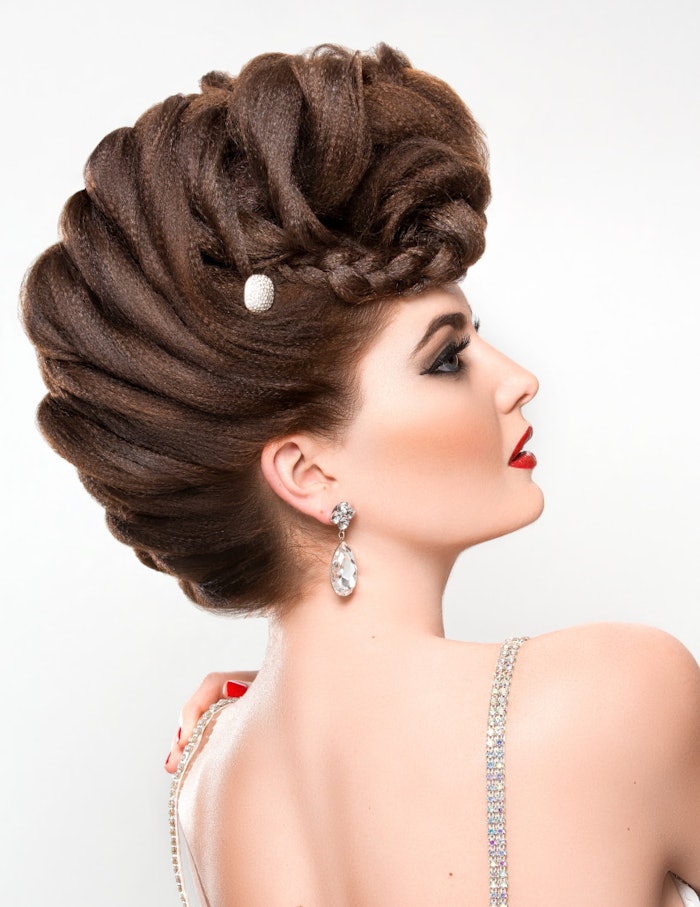 Textured hair of all types is fun and fabulous to work with as it can be molded into so many cool shapes…whether naturally super curly or crimped, textured hair can be a terrific base for exciting up-dos.  This French Braided Fauxhawk look was easily created on beautiful model, Maggie Lawson, who has naturally straight, smooth hair.
HUMA: Sherri Jessee Photo: Nathan Mays
PREP.
To beef up the texture,  the Sam Villa Textur Iron was used to create a soft micro-crimp. Take small sections, spray with a heat protecting spray and crimp from roots to ends.
CREATE.To create massive volume and add more texture in the hair, use the Sam Villa Textur® Ironall over the head, from base to ends, to create a soft micro-crimp texture. Texturizing the hair with the Textur® iron is easy:
Take small sections – no wider than the width of the plates
Spray from 6-8″ away with a heat protecting spray (necessary to protect the hair from the heat of your thermal tool)
Texturize or "crimp" the entire head from roots to ends
Hot Tip: The thinner the section and more compression you use with the Textur® Iron, the deeper and more noticeable the hair texture will be; for less noticeable texture, take thicker sections and/or don't compress as hard
After adding texture to the hair with the iron, brush out the hair and create a French Braid. Begin at the nape and work your way toward the front of the head. A simple way to increase the height on the top is to pin a hair pad underneath your French Braid on the top of the head or wherever you want more volume. Hair pads are awesome to work with because they can increase volume quickly without teasing or backcombing the hair.
HUMA: Sherri Jessee Photo: Nathan Mays
Watch this video from 2014 NAHA Editorial Finalist and 2013 NAHA Editorial Stylist of the Year, Sherri Jessee to see how to create a French Braided Fauxhawk!
Janie Tongue, hairstylist and owner of Bangz Park Avenue in Winterpark, Florida watched the video and came up with her own brightly colored version of the French Braided Fauxhawk as seen below: