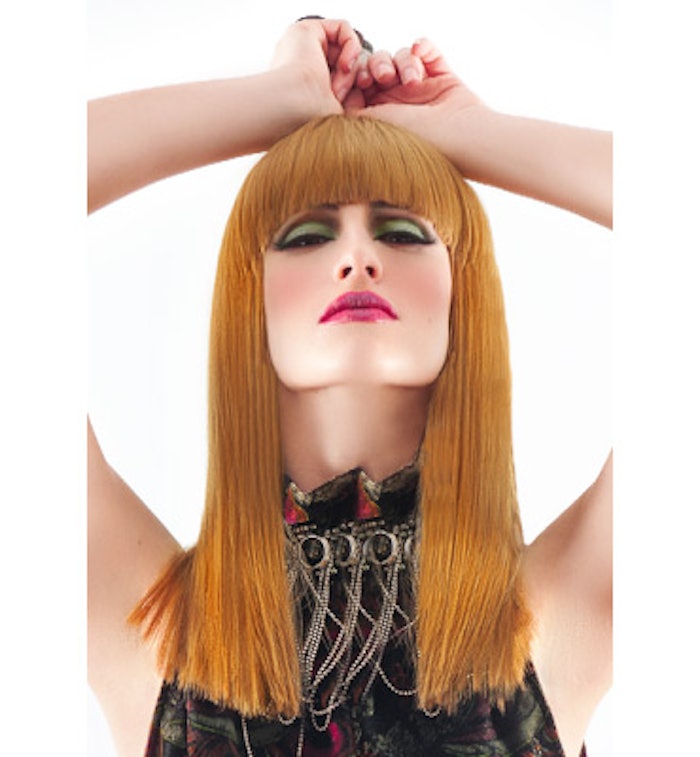 Dramatic makeup can be quick and easy with the correct tools and a few simple steps.
 Hair and Makeup by Sherri Jessee. Photo by Jason Setiawan. 
Sherri Jessee on set with model Anastasia.
STEP ONE. THE EYES HAVE IT.
Line very close to the lash line. Sherri's Luxe Creme Eye liner is awesome for creating the perfect cat eyeliner and also great used on the water line.
Please don't forget the water line. This important step gives a professional finish.
Drop in individual lashes. These are much more comfortable than strip lashes. Although they take longer to put in, they feel so natural and look luxurious. 
Take your time to create a gorgeous brow shape. This will be your crowning feature.
Using the side of a fluffy brush, apply a darker shadow in the crease line just about the curve of the eye.
STEP TWO. FACE FACTS.
Lightly apply creme with a foundation brush to conceal blemishes and even skin tone.  
To create amazing contour, dust a matte taupe shadow with an angled brush in hollows of the cheek.
For a rosy glow, brush soft pink on apples of the cheeks outward to hair line.
It is easy to apply your contour and blush with a great angled brush.
Cut down the clutter: Sherri's Custom Compacts allow you to store all the colors you will need in one place!
STEP THREE. LUSCIOUS LIPS.
Apply lip color and carefully shape your lips with a lip pencil.
Dab on lip gloss for shine and fullness.
 

Step by step photos by Janie Tongue.
As a globally recognized hair and makeup artist, Sherri Jessee's work and expert tips have been published in hundreds of magazines. She can be found working with celebrities, styling the runways of New York Fashion Week, and in her Intercoiffure Salon in Bristol Virginia. For more information visit 
www.sherrijessee.com
.