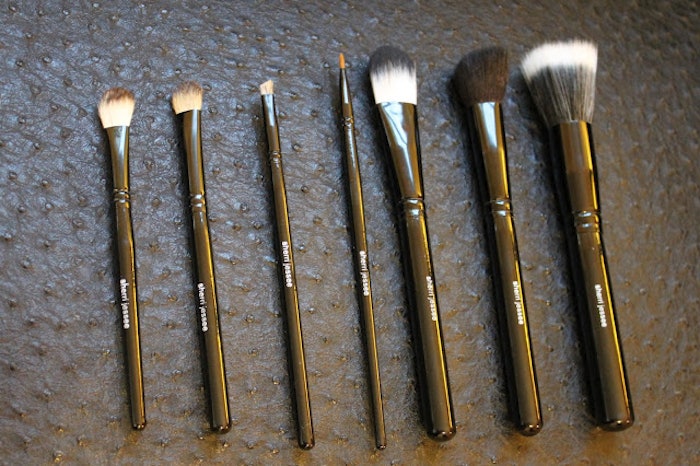 It is easy to get lost in the clutter when it comes to beauty products. Most women have drawers full of hair and makeup items they never use. Why is this? The typical consumer is in a never ending search to find that magic product or tool to make them feel beautiful. Just like trying to find a shoe that is sexy yet comfortable... we buy and buy and buy... hoping our next purchase will be "the one."
It is time to clean the clutter and narrow your "glam gear" down to essentials that work.
Allow me to share with you my favorite makeup brushes. Beauty basics that get the job done. It is time to simplify your tools and techniques to achieve maximum results.
Left-Right: Shadow, Crease, Brow, Liner, Foundation, Contour, Powder.

SHADOW. 

Use this soft fluffy brush to apply a light colored shadow over your entire eyelid.

 

CREASE.

To create dimension for your eyes, this brush is fabulous to apply a darker color in the crease of your eyelid.

 

BROW.

Using this angled brush with a  powdered eyeshadow is great way to perfect your eyebrow shape.

 

LINER.

This is an awesome brush to use with creme eyeliners and easily creates a sexy cat-eye.

 

FOUNDATION.

Application of your creme or liquid foundation will be flawless when you use this specially designed brush.

 

CONTOUR.

Create the cheekbones you wish you were born with.

 

POWDER.

This dual fiber brush is awesome for blending your blush and applying powder. 
Educational video coming soon!
Check out these brushes and more organizing tips and tools @ www.sherrishairsalon.com.