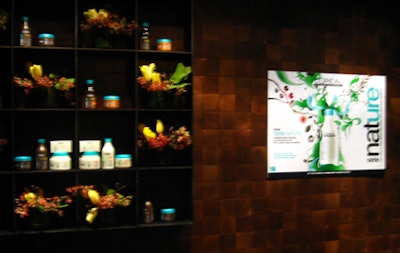 Sourcing trends is always an interesting venture. How does it start? Why does it gain popularity? Why does it start to wane? At the recent U.S. product launch event of L'Oreal Professionnel's Série Nature, the companie's first eco-friendly haircare initiative, the "going green" trend received plenty of discussion.
As senior VP of L'Oreal Salon Products Division Paul Sharnsky pointed out, the beauty industry has been looking toward the food industry for developments in green-ifying. "Hence the reason we're holding the event at Rouge Tomat," he says, pointing to the NYC restaurant's focus on locally-sourced foods that also have the highest nutritious value. "Trends in food definitely correlate to beauty. If you look at food, the green movement started out as very broad, then became more general and is now very focused. The same is holding true for beauty," Sharnsky relates.

Though Série Nature has enjoyed success in Europe for a few years, it's U.S. debut sees it coming in with enhanced features due to updated "hybrid" technology—a technology that allows for high-performance by substituing synthetic ingredients with natural ingredients without loosing the products' efficacy. To become part of the $7.7 billion green beauty industry, L'Oreal plans to push it's U.S. product debut with copious education. "When we asked women whether it was important to them to buy green products, 79% said yes. But when we posed the questions of was it important for them to buy products without synthetics, the number jumped to 89%," says Sharnsky. "We want to be able to educate stylists about natural, green products because there is a lot of confusion out there, and we want them to be able to pass on this knowledge."

The line features 100% natural fragrances that run the gamut from fruity to soft floral, and come in packaging made from 100% post-consumer recycled materials. Though the line is eco-friendly, L'Oreal does stress that in some cases, synthetics can't be removed just yet because the efficacy is compromised. "Some day we'll get there," says Sharnsky.

Hot Tip: As part of an "aspirational" drive, L'Oreal Professionnel Série Nature has partnered with Industry Outfitters Inc., a leading international designer and manufacturer, to create a concept salon decor. A contest will be held for green salons to win the chance to become this concept salon, garnering a complete redesign. Keep checking the L'Oreal Professionnel website as details become available.