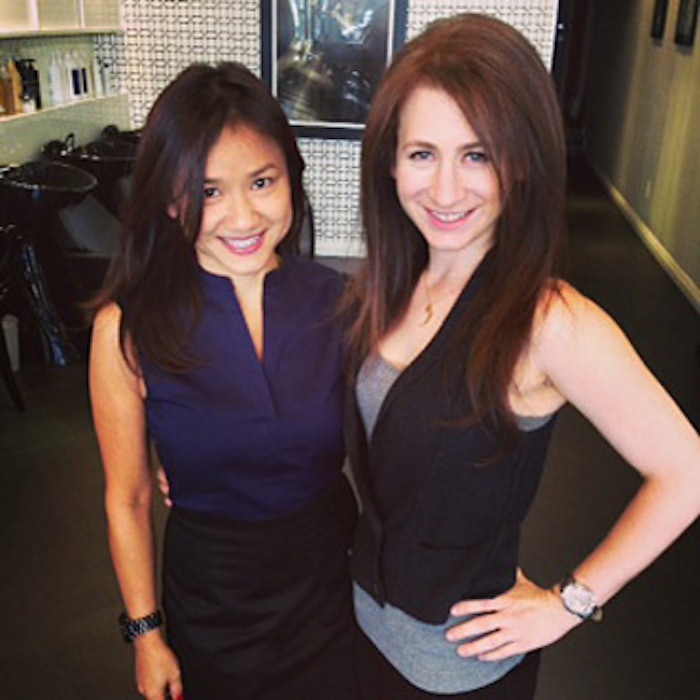 I recently had the opportunity to revisit one of my favorite Beverly Hills salons: The Private Room. Not only did owner Tina Dizon treat me to an amazing gravity-defying blowout along with a sparking demipermanent "Tiger's Eye" brunette hue (part of the salon's brand-new "The Glossary" bar)-which in and of itself, makes for one fantastic salon experience-but the "service" I experienced at the salon was one of the best.

I should mention here that I LOVE lists. Color-coded, numerical, it doesn't matter-lists make my life easier, and clarify every situation, whether it be "What To Get at The Market" to "Date Him or Dump Him" (yep...I am now happily married, but in those college days, I'd write out the pros and cons of boyfriends).

Back to the salon: As soon as I entered the Private Room, I was greeted by friendly staff and lists of all their services, done in a non-sterile way that was completely inviting and totally salon-branded.

One adorable list featured the salon's "Bang Station," with the price of services specifically stated to avoid clients the discomfort of asking, as well as an overview of each bang type ("The Cleopatra, "The Flirt," etc); plus, celebrity looks associated with each bang type are featured to further demystify the process for clients and make them feel empowered when determining which they would like. This, in turn, helps the stylist, because the client now knows exactly what she is getting in terms of her look. And, as if that weren't enough, clients can now easily recall past looks they've chosen when revisiting the salon, as well as remember the salon itself based upon their well-marketed collateral. Talk about a win-win-win!
Similarly, "The Glossary" service is the salon's own semipermanent color, guaranteed to grant jewel-like brilliance; hence, this list is coded with various types of gemstones ("Tiger's Eye", "Garnet", etc) with colors clearly conveying the results the client will receive.
And the cherry on top of these client-clarifying service lists: An adorable beverage sheet whereupon clients can choose from a range of drinks, from lattes to mimosas. [Side note: As I had a morning appointment, I was even given a pastry to munch on! Sounds so simple, but trust me…simple actions like those are what make an indelible impression in the mind of the client.]
In a town filled with innumerable high-end salons to choose from that cater to an affluent clientele, Dizon has found a way to set herself apart from the pack by giving her clients a full-service experience: Beautiful color, cut and styling; friendly staff; and the ability to make all her clients feel confident in their abilities to select a look of their choosing…with the help of handy lists…and a little professional advice, natch!

xoxo
Aly