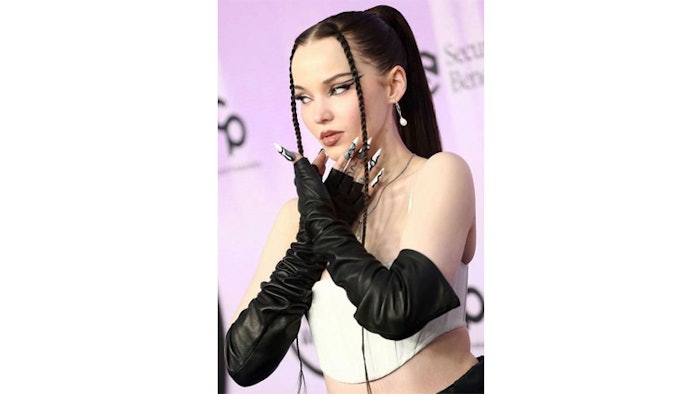 Courtesy of Clayton Hawkins
Dove Cameron rocked a Jedi braids moment with a snatched back ponytail, styled by Clayton Hawkins at the American Music Awards.
The awards took place Sunday, November 20, 2022 in Los Angeles.
Clayton used Tangle Teezer and SexyHair to create the look.
How to achieve the look:
Apply Healthy SexyHair Love Hair Oil to damp hair and detangle with Tangle Teezer The Ultimate Detangler. 
Then, use a round brush, and blow out the hair to get it as smooth as possible.
For a snatched pony, work in two sections, and start with a half up pony.
Saturate the hairline with Big SexyHair Spray and Stay Intense Hold Hairspray.
Use the Tangle Teezer The Ultimate Styler and brush the hair into the half pony, securing with an elastic.
Once the hair is secure, repeat this process on the bottom section; spraying, brushing and adding the hair to the top ponytail with a second elastic.
Saturate a small section of the hair from the pony in the Big SexyHair Spray and Stay Hairspray and wrap it around the base of the pony to cover the elastics. Secure with a hair pin.
To finish the look, spray with Healthy SexyHair Re-Dew Conditioning Dry Oil & Restyler for extra shine.
Give the ponytail one last brush with the Tangle Teezer The Wide Tooth Comb.