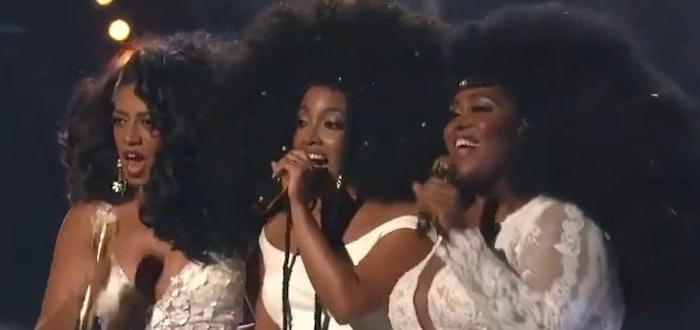 Courtesy of Naeemah LaFond
Naeemah LaFond, amika's global artistic director, styled Mickey Guyton's hair for the CMAs!
Mickey Guyton shared the stage with Brittney Spencer and Madeline Edwards, whose hair Naeemah also styled.
"This is an iconic moment in country music history. It's powerful to see the beauty of black women, and more specifically the hair of black women, being celebrated in spaces where historically we have not seen ourselves represented," said Naeemah. 
Naeemah used amika Headstrong Intense Hold Hairspray to complete the hairstyles. She was inspired by the song's lyrics and used each woman's individual hair texture as a way to represent their own personal journey with their hair. The volume serves as a representation of the pride and confidence that Mickey sings about in the song. 
"When the creative director, Jemel McWilliams, explained his intentions behind this project and that the goal was to uplift and impact, I instantly knew that this was something that I wanted to be a part of. I love when hair moments are rooted in something deeper than what you see on the surface. As black women, our hair is so often politicized. In moments like this, we take back our power. I'm so honored to have a small part to play in the work that Mickey is doing in Country Music," said Naeemah.