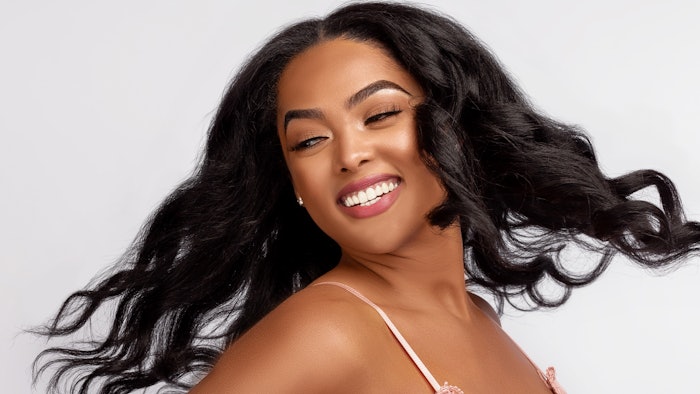 Photo: B.Cherie Creative / @B.Cherie_Creative
Now is the perfect opportunity to master a silk press and wave to provide the best service offerings to your clientele.
Ashley Brown, owner of Cheveux Brookfield salon, Sam Villa ambassador and Mizani artist, shares how to achieve the silk press and wave.
How-to Silk Press + Wave:
Shampoo with Mizani Moisture Fusion Gentle Clarifying Shampoo to gently remove any buildup.
Follow with Mizani Moisture Fusion Moisture Rich Shampoo and Moisture Fusion Intense Moisturizing Mask.
Apply conditioner to lightly towel-dried hair, focusing on mid-shafts and ends, avoiding the root area. Use a Sam Villa Signature Series 9 Row Finishing Brush to evenly distribute conditioner, starting at the ends and working toward the mid-shafts and then the roots. For more intense treatment, let it sit for 10 minutes, then rinse thoroughly.
Apply Mizani 25 Miracle Milk Leave-in Conditioner and use the 9 Row Finishing Brush to detangle and distribute product, working from the ends up.
Emulsify a dime-size amount of Mizani Press Agent Raincoat Styling Serum and Styling Cream and apply to hair starting at the ends, working up for maximum heat protection. Use the brush again to distribute product.
Section hair in four to six sections, depending on the density of the hair; bantu knot and secure each section with Sam Villa Dry Sectioning Clips. Begin drying the section closest to the nape with the Sam Villa Pro Results 3-in-1 Blow Dry Hot Brush. Work from the ends up while drying and use the hot brush in the hair dryer/hot brush setting (middle setting).
Repeat drying process for all sections, working from the nape up and around the head. Once dry, lightly mist with Mizani Heat Screen (one to two sprays). Go through one last time with the 3-in-1 Blow Dry Hot Brush to ensure hair is completely dry.
Begin to smooth hair using the Sam Villa Signature Series Sleekr Professional Straightening Iron, working from the nape up. Use dry sectioning clips and a tail comb to keep sections neat and clean.
Once hair is smoothed, emulsify a dime-size amount of Mizani Press Agent Raincoat Styling Serum in palms and apply to hair from the ends up for added smoothness and shine. Then, begin to wave hair using the straightening iron starting at the nape and working up and forward, keeping sections clean with clips and a tail comb
After hair is completely waved, take one pump of Mizani 25 Miracle Nourishing Oil, emulsify all over hands and gently begin to break apart waves. This will prevent frizz and maintain softness.
"When done well, a silk press should last until hair gets wet or high humidity starts to break it down," explains Brown. "It's also a great way to style-shift for the season."