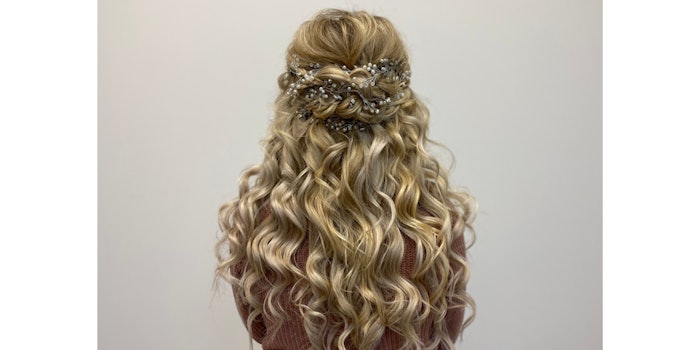 Caralee Pridemore, a Sam Villa ambassador, specializes in bridal services and says the ONLY way to meet a bride's expectations is to have a trial. Here are four of her tips for a successful hair trial: 
Arrive Ready: Have guests wash and dry hair before arriving to their appointment. Starting with a clean canvas allows styling products to be layered to build a solid foundation for hold, without older product buildup getting in the way.
Products: Advise against using softening products like leave-in conditioners and masks; they create too much slip. The goal is to get the most grip out of hair so the style will last all day/night. So, applying a blowout cream on ends, volumizing mousse at roots and then blow-drying hair upside down would be the best styling option to create tons of volume and a nice foundation for an updo.
Extensions: If a client wants a half-up half-down style with fullness, but doesn't have a lot of hair, offer extensions. Discuss which option is best, permanent or short term (wedding only), and think about her budget and add-on fees. Hair padding = add on fee, day of prep = add on fee, etc.…
Accessories: Accessories help to tell the story and set a vibe. Is the wedding rustic chic, posh, boho, beachy or urban? There are unlimited options when it comes to accessories

—

have some on hand to show what could work, or advise brides to bring what they have already chosen. And don't forget the veil! Have brides bring it for the trial, along with pictures of the dress, as the neckline also comes into play.
"Schedule trial runs four to six months prior to the wedding to make sure you and your guest are a good fit and can meet each other's expectations," says Pridemore.