Courtesy of AHPR Group/Anne Hardy Public Relations
The Sports Illustrated 2023 runway show (in late July) turned heads as legendary SI cover girls including Brooks Nader (and her 3 sisters) were among those who walked the much-anticipated show, previewing the latest looks for sun and surf.
Nader's hair was styled by lead stylist Nichola Lynch (@nichola.lynch) and makeup artist Angelique Cechetti (@makeupangelique).
The hair looks, created by Miami's leading Sean Donaldson Salon who has styled the SI runway for over 8 seasons, were especially noteworthy this year. British M products were selected to style looks.
Hair trends were strong with a neo-Boho Style and fine skinny braids to flatter the face. The hair emphasized a well-hydrated softer patterned texture – a new take on traditional beach hair. The result was a loose sea-breeze look that was iridescent, lustrous without heavy shine and moveable – even kinetic.
If you want to learn how to recreate the looks featured on the runway, look no further. Follow the tutorial below.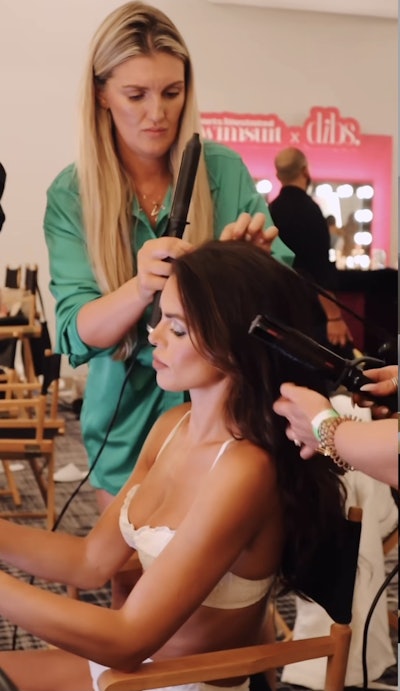 How-To: 
The team sprayed the hair with British M Extra Glam to naturally hydrate strands that were first braided  – the texture locked by running the heat iron over them, released once set and cooled, then lightly brushed.
Once the loose S-texture was created, British M Sea Salt Spray was then sprayed at roots, underneath and throughout the hair to underscore the moveable sea-breeze effect.
Finally, to subtly hold the iridescent effect in place without heaviness, British M Hard Tailor Spray was sprayed softly throughout the hair.
"It was a sensuous take for the beach," said Nichola Lynch. "Our goal was to bring beach hair to a luminous new level of gorgeous to match the girls and swimwear this year."
You can find British M products on their website or on Amazon.