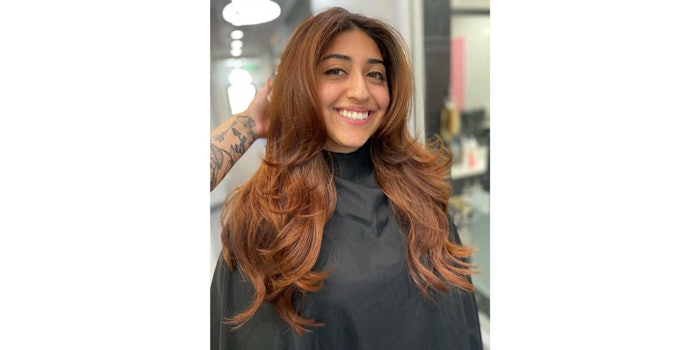 courtesy of @_missmitzy
The air cut hair trend is taking over TikTok.
The style first got its start in Korea and has become an international sensation, with TikTokers across the globe showing off the look. 
The technique behind the air cut involves cutting in layers very close together, concentrating them around the face and at the forehead to create a framing effect and wispy fringe. The idea is that when you run your fingers through the hair or brush it, the layers appear fluffy and airy.
One of the benefits behind this cut is that it works on different lengths and styles, from short hair to curls. The air cut is also versatile and can be styled in many ways. With a look this accessible, it's no surprise that it's trending!
As mentioned above, the air cut relies on layering, which means it can add serious texture and volume to fine hair and reduce weight on thicker hair. However, stylists are advised to be cautious when layering and tailor any layers to each client's individual hair needs. 
Stylists will have to advise clients on the best methods to maintain the look at home, depending upon their individual hair type. Volumizing spray, curl cream and a blow-dry brush all are options that can be recommended. Additionally, as the hair starts to grow out, clients should make a visit for a trim about six to eight weeks after they were first styled to maintain the airy, voluminous look of the cut.