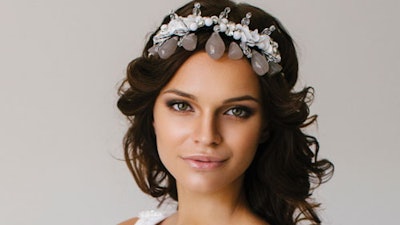 The "I do" to-do list of any bride is bound to be extensive, with hair ranking high among her priorities. The challenge: Many of today's chic bridal hair designs demand more strands than most brides-to-be sprout. The solution: extensions, which can add length, volume, curl, and color, putting countless styling options that might have seemed unattainable within reach. Here, weft-assisted looks that suit any big- day style—but will leave guests none the wiser.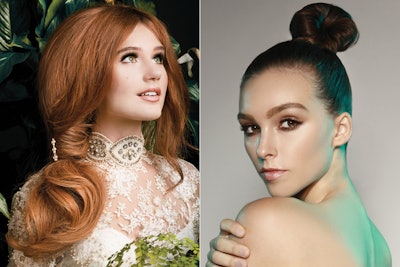 The Look: Side-Swept Bride
Stylist: Angie Gilmore, Easihair Pro director of products and progams.
Top tip: You can never start too early with the bridal extensions process. "The best time to book an extensions trial is immediately after getting engaged. That gives brides the added bonus of looking beautiful at all related events, from showers to bachelorette parties," says Gilmore. "Easihair Pro tape-in wefts are lightweight and virtually undetectable, so they can also be a part of the honeymoon!"
1. Prep both natural hair and extensions with lightweight hairspray. Using a 2-inch barrel iron, curl all hair in the same direction to maximize blending.
2. Secure curls at the base, allowing hair to completely cool before removing clips. Backcomb hair at the base to remove indentations and add volume.
3. With a brush, gather hair to one side in a ponytail. Tip: Avoid brushing too hard, which deflates volume and curls. Secure using bobby pins and wrap the pony's base using a long section of hair from the underside.
4. Backcomb the loose portion of the pony, adding volume if needed. Set with strong-hold hairspray.
The Look: Sleek Bride
Stylist: Ryan Nickulas, Platinum Seamless artistic director.
Top Tip: Many brides-to-be don't grasp the myriad possibilities that extensions can create—including color. "Most brides want a hair change, so I show them how to instantly create beautiful volume and illuminating highlights—aka, color without commitment—while still looking natural," says Nickulas. Then he goes the extra mile: "I always shampoo and blow-dry tape-ins prior to application as my gift to the bride, so hair smells, looks and feels good on the big day," he says.
1. Apply, cut and blend 3-inch tape-in wefts.
2. Prep hair with a light tease and dry texture spray to add grip and longevity. 3. Gather hair into a tight ponytail at the top of the head; secure.
4. Tease the ponytail for added volume.
5. Twist into a large, loose bun and secure with pins.
6. Finish with medium-hold hairspray.
RELATED: 5 Hot Styles Straight from the 2019 Spring/Summer Runways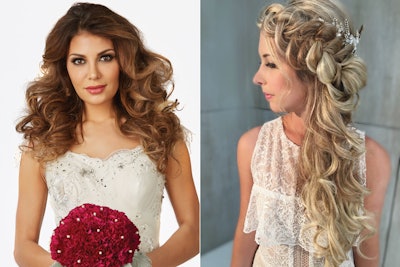 The Look: Romantic Bride
Stylist: Nona Pitts, owner of Salon 5150 in Brea, California for Cinderella Hair.
Top Tip: If you're unsure of how to sell your clients on extensions, look no further than your portfolio of past brides. "During a bride's consultation, I show her images of other ladies who used Cinderella Hair extensions to achieve fullness, length or curl retention," says Pitts. "I recommend brides come for a trial two to four weeks before the big day. It's essential to create a hair plan, including extension customization and color- matching for a naturally seamless look."
1. Part hair in four sections, leaving a 1-inch perimeter around the hairline.
2. Attach Hair Strip, starting at the nape.
3. Pull hair through holes and secure in place with I-Links.
4. Continue this method, working toward the crown and leaving approximately 2 inches of space between each strip.
PHOTOS: COLLECTIV Art Team's Just Hair Compilation
The Look: Boho Bride
Stylist: Annette Waligora, Hairdo bridal stylist and educator.
Top Tip: Not all types of extensions speak to all brides, so finding out their desires can point you to the proper weft adhesion. "I ask all of my first-time brides the same two questions: Are you comfortable wearing extensions? How long do you want them to last?" says Waligora. "To wear throughout the honeymoon, I recommend tape-in, bonded or beaded wefts. For a single day-of 'do, clip-ins can craft intricacy with length and volume. I keep different samples at my studio to go over the full range of options during the consultations."
1. Layer two Hairdo Invisible Extension headbands on the desired spot of the client's head.
2. Shift bands slightly to the right side, letting hair fall in a single direction.
3. Braid hair at the top, pulling the plait wide and loose.
4. Curl the remaining hair in no-fuss waves.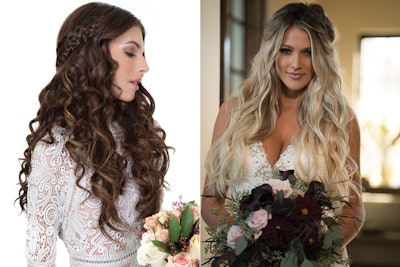 The Look: Braided Bride
Stylist: Nanci Lee, Great Lengths design team director.
Top Tip: When pricing bridal extensions, don't undersell yourself. "The price of bridal extensions should be at least double the cost of the hair purchased. For example, if extensions are $500, I recommend stylists charge upward of $1,000 since it's a specialty service," says Lee. As for ensuring clients take care of their investment, Lee recommends education through repetition. "Great Lengths provides home-maintenance instructions to educate clients. Stylists should go through each step during the consultation, then have brides verbally repeat them back on application day," she says.
1. Create two four-strand braids with tape-ins. (Continue stacking tape-ins to achieve desired density. For a flat braid, add texture wax. For fuller braids, crimp.)
2. Curl all natural hair.
3. Add the adhesive tab to each side of the braid base. Insert the base into hair at the desired spot, and adhere it to curled hair.
4. Let braids hang or pin them in a drape, crown or other embellished style.
PHOTOS: Schwarzkopf Professional's #REdefiningyou Collection Takes Inspiration from the Runway
The Look: Beachy Bride
Stylist: Taylor Boulton, HALOCOUTURE national educator.
Top Tip: If you want your bride-to- be to treat her extensions with care, you'll need to send her home with more than verbal support. "Proper care is essential for maintaining longevity of extensions," says Boulton. "Package deals should include an at-home instruction pamphlet, shampoo, leave-in conditioner, heat protectant, and a brush, so the bride has all the tools needed to care for her new investment."
1. Pre-curl extensions, then curl natural hair.
2. Leaving out the hairline, grab a 1-inch swath of hair, starting on one side of the head. Create a relaxed twist.
3. Pin the twist into the center back of the weft.
4. Finish one side, then repeat on the next.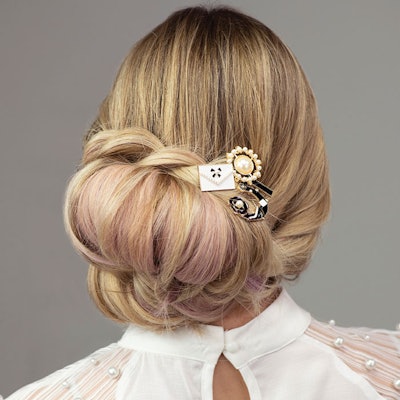 The Look: Sophisticated Bride
Stylist: Alicia Iannone, Hairtalk master educator and platform artist.
Top Tip: Some bridal clients need to see to believe. "Intro a client to extensions by doing the updo trial both with and without wefts, so she can see what a huge difference it makes visually and how well curls hold," says Iannone. Also, not every bride-to-be will want or even need a full head of extensions, so be ready with appropriate pricing for jobs that demand less wefts. "Most brides opt for a full head of extensions, which I typically price at $500 plus the cost of hair. But if I'm only doing a few pieces, I charge $20 per extension. I love tape-ins because they don't require heat or tools so there's no chance of damage on the special day, and install timing comes in at under one hour for a full head," she says.
1. Curl both natural hair and Hairband hair with a 1-inch iron.
2. Section crown area up and place the Hairband on the head, keeping the front 1 inch away from the hairline.
3. Section away hair near the ears on both sides.
4. Work the back section of hair into a low side pony (don't pull through all the way); create a chignon with the tail of the pony. Roll into a bun and pin.
5. Twist and pull the left front hair section, and pin into a low bun. Repeat with the right front section.
6. Spray to set, and adorn with accessories.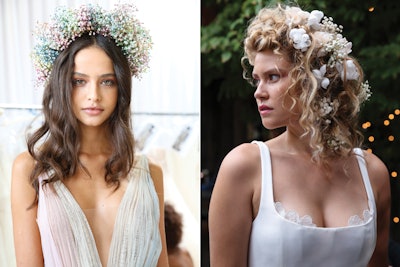 You can also take cues from the runway. Just as high fashion and couture debut on the catwalk, wedding dress designers showcase their dreamy creations
on the Bridal Week runways. And no gown goes before the discerning audience without the perfect accompanying hair. Here, some of the mane looks from Bridal Week that can serve as a springboard for your brides-to-be—whether you need wefts or not, we'll leave up to you!
This story first appeared in the March issue of Beauty Launchpad magazine. To receive the magazine, click here to subscribe.
[Images: Getty Images; Easihair Pro; Sailey Williams; Cinderella Hair; Hairdo; Great Lengths; Halocouture; Hairtalk; Masato Onoda; Ari Weiss]