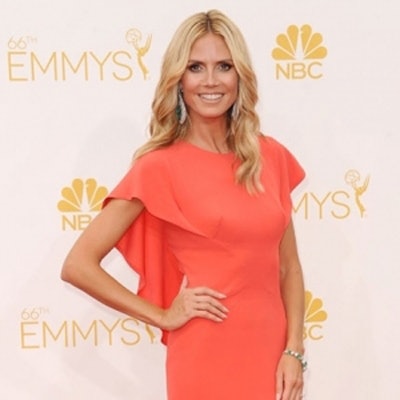 Celebrity colorist Rona O'Connor shares how she created Heidi Klum's brilliant blonde Emmy Awards hair color:
"My first consideration with blonde color is keeping the integrity of the hair and maintaining the best condition possible, as it is one of the most fragile and sometimes damaging inducing color techniques. I feel it is most important to have a color that grows out well and stays healthy in between visits.
 
"I softened Heidi's Base color by one shade with New Blonde by Goldwell. This allows a softer regrowth with less demarcation, and allows for less highlights, giving a blonde result with no damage.
 
2. "I sprayed the dry hair before highlighting with Colorglow IQ Structure Equalizer Spray. There is no such thing as too much conditioning for blondes.
 
3. "I highlighted with SilkLift by Goldwell adding three drops of SilkLift Intensive Conditioning Serum Concentrate which drives conditioner into the hair during the highlighting process - it's amazing and prevents breakage on delicate hair.
 
4. "To seal the hair, I used 10V Colorance by Goldwell, with clear in equal parts to seal, tone, and reflect dimensional hues and high shine color.
 
5. "I used Goldwell Dualsenses Rich Repair Regeneration Serum (which I call 'The Booster Shot') to protect, repair and condition hair. It fills the hair shaft with lipids, reinforcing the integrity of the hair. Keeping the hair filled with the right products is key to high quality color results (especially blondes that heat style often)."
[Image: Getty Images]