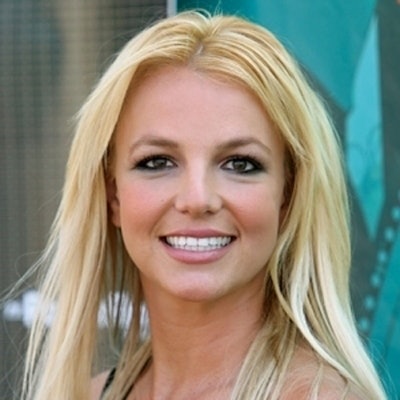 Color by George Papanikolas of the Andy LeCompte Salon in West Hollywood, California
We knew that it wouldn't last—or at least we were hoping it wouldn't: Britney Spears' brunette locks (which were dyed while touring in Europe). Thankfully in early August, Spears turned to star colorist George Papanikolas for a blonde reversion. Papanikolas has been Spears' mane color man for many months, including for the North American leg of her "Circus" tour. (Papanikolas declined to be a part of the European tour due to salon commitments.)
"Britney looks and feels better as a blonde," notes Papanikolas. "She only wore her hair darker for a short time [one application], so it wasn't too difficult to restore her color to its former lightness." After completing the entire process, which took a total of nine hours for Spears to have the old color removed, receive a new blonde color design and a brand-new set of extensions (put in by stylist Jen Atkins), Papanikolas reports that he sent Spears home with an armful of K-PAK haircare products.
Colorazzi Formula: 
Gerd Hoher, master colorist for arteasecolors, blondes up Britney Spears' locks—his way.
Haircolor: arteasecolors
Prework: Ecoly Tri-Wheat Reconstructor (to strengthen and even-out porosity)
FORMULA:
Base: arteasecolors powder bleach + 10-volume developer (medium-fine slices; omit a 1/8" parting every fourth to fifth foil to create a lowlighting effect) Dimensional Colorations
Toner/Glaze: 60 ml 12/88 (Pearl Special Toner) + 10-volume developer (tones and promotes diffusion of lowlights and highlights)
After Care: Gentle color-care shampoo and light conditioner as needed.
[for•mu•la bar]: 
Haircolor: Joico
Natural Level: 6
Existing Haircolor: 2" regrowth; level 4 ash brown, midshafts and ends
Hair Texture: Fine
Hair Condition: Fair
Prework: Pravana Naturceuticals Color Extractor
FORMULA:
Base: Vero K-PAK Color, 45 ml HLA (highlift ash blonde), 15 ml LB (color lightening booster) + 40-volume cream developer
Dimensional Colorations:
Highlights: VeroLight Plus (powder bleach) + 40-volume cream developer
Lowlights: Vero K-PAK Color, 9G (light golden blonde) + 10-volume developer (extensions)
Procedure: 
Slightly dampen hair and saturate with Pravana Color Extractor. Bag and put under dryer (medium heat) for 20 minutes. Rinse hair and repeat the entire process two additional times. (The Color Extractor reverts Spears' hair from brunette to its previous pale, baby blonde color.)
Apply Base color to regrowth only and process until hair is light blonde. Shampoo and completely dry hair.
Using a heavy balayage technique, apply the Highlights formula to the top and crown area. Lighten to pale blonde.
Color select strands of human hair extensions with Lowlights formula prior to application. Process to warm, baby blonde.
After Care: Joico K-PAK Shampoo, Deep-Penetrating Reconstructor and Conditioner