Air-drying hair is popular now because it creates a unique natural texture and reduces frizz and puffiness.  But let's face it, some hair types still need a little finessing to look good, and that is when spot finishing is perfect.   It calms frizz, and adds volume, control and shine to those sections that just don't behave.  And the beauty is, it doesn't take that much time to do because only certain sections are being styled.  Follow these tips from the Sam Villa ArTeam.
Step 1 – Air Dry
Apply Redken No Blow Dry Just Right Cream to damp hair
Comb through with a Sam Villa Wide Cutting Comb
Air dry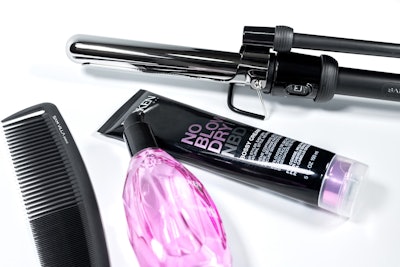 Step 2 – Spot Finish
Use Sam Villa Artist Series 2-in-1 Marcel Iron and Wand to touch up and define random sections of curls
. 
Work with hands to brush curls for a natural finish
Finish with a dime size amount of Redken Glow Dry Diamond Oil to help control frizz
To add height at the crown, compress sections at the base with a Sam Villa Signature Series Textur Professional Texturizing Iron to add volume and lift at the scalp.
[Images courtesy of Sam Villa]