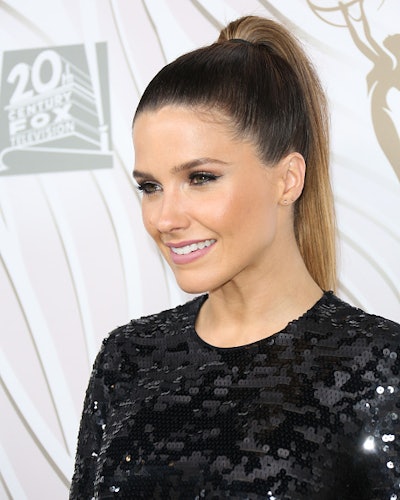 Oribe made a strong show at the 69th Emmy Awards, which took place on September 17. Stylists Chad Wood and Chris Naselli created looks for Sophia Bush
Chad Wood used Oribe Hair Care for Sophia Bush, who rocked her look at the FOX Broadcasting Company, FX, National Geographic and Twentieth Century Television's Primetime Emmy Awards After Party.
How-To:
Prep hair with water and Volumista Mist for Volume at the roots. Blow dry up and away from the face.
Attach clip-in extensions for extra length. Apply Surfcomber Tousled Texture Mousse and brush product toward the crown of the head.
Gather all hair at the crown and tie with a black bungee cord.
Spray Dry Texturing Spray to ponytail for an extra boost.
Apply Gold Lust Nourishing Hair Oil to ponytail for a sleek shine.
Finish with Superfine Strong Hair Spray to keep everything in place.
The second look, created by Oribe Editorial Stylist Chris Naselli, is a low, deep-side-part ponytail for actress Kiernan Shipka's red carpet look. The fresh-faced actress was among one of the night's best-dressed stars in an ethereal Miu Miu gown. She showed off a more mature side with a sleek and sophisticated ponytail.
Chris Naselli using Oribe Hair Care for Kiernan Shipka at the Emmy Awards.
How-To:
Prep damp hair with Foundation Mist, distributing evenly from roots to ends.
Apply Maximista Thickening Spray from roots to ends and blow dry with a large round brush.
Use a flat iron to smooth out ends.
Make a deep side part and apply a mixture of Gold Lust Nourishing Hair Oil and a generous amount of Gel Sérum in layers starting at the roots and smoothing to just below the ears with a tight-tooth comb to give the hair a glossy, wet look.
Pull hair into a low ponytail and secure with a clear elastic tie.
Finish with a heavy mist of Shine Light Reflecting Spay for an additional layer of gloss.
[Images from Getty]