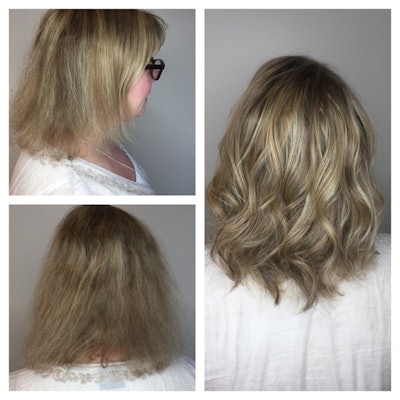 Stylist Tony Odisho had a client who wanted to lengthen the hair on her sides. She also wanted more volume. He created the cheat-sheet below for you to use on your clients!
Color glaze was used at the roots to lift the hair one shade from its natural color.
Approximately 45 foils were used with lightener + 30 volume + B3.
Weaving technique was used to apply the color.
Toner 10A + 10 volume applied at the shampoo bar.
The hair was prepped using Ostia Collection® Clarifying Shampoo and one pack of Tony Odisho® keratin fusion extensions, color 24 Ash Blonde, were applied.
Hair was smoothed with Ostia Collection® Smoothing Serum and curled with the TO Infrared Curling Iron™ and Ostia Collection® Flexible Hold hair spray.
[Images courtesy of Tony Odisho]