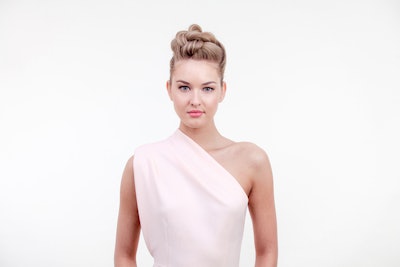 Modern brides can have it all with this modern yet romantic style that has beautiful details from every angle. Anna Peters for Sam Villa, explained how to use a Sam Villa Signature Series Textur Professional Texturizing Iron to create a simple braid and knot that is as full as a bride's bouquet!  "Using the Sam Villa Textur iron is the magic that creates massive volume and longevity that will last from morning till night," says Peters.
Tie the Knot
Take 1" sections and mist hair with Redken iron shape 11 for maximum heat protection and style memory.
Using a Sam Villa Texture Iron, press down each section to create an airy volume and modern texture. Brush hair with a Sam Villa Artist Series Finishing Brush to loosen the texture.
Create a half moon section in the front of head encompassing the front hairline and about 2-3 inches deep towards the top of the head. Clip out of the way.
Gently brush hair away from the face towards the top of the center back of the head and create a high ponytail. Make a large knot at the base of the ponytail, pin to secure into place. Tuck ends in to base and pin.
Pull front section forward and over direct entire section over the right eye. Create a three-strand braid and secure ends with an elastic.
Gently loosen braid and roll it back over itself, towards the top of the head at a diagonal. Tuck ends in, pin to secure at the top of the knot and spray with Redken Control Addict 28 for a hold.
[Image courtesy of Sam Villa]