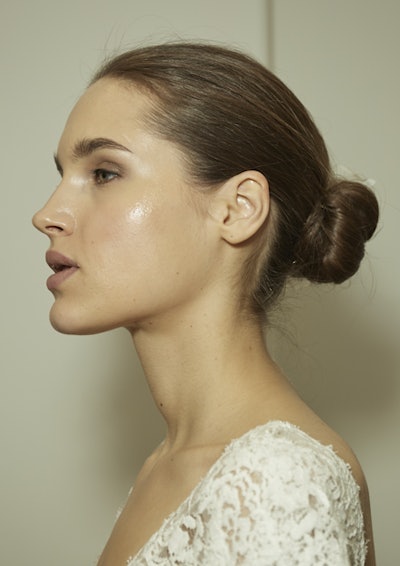 This Bridal Fashion Week, Redken Brand Ambassador Rodney Cutler capitalized on chic romance at Monique Lhuillier's Spring 2018 Bridal Show.
"We went for a more natural, chic look at the Monique show," Cutler said. "It's a simple look, since the dresses are so spectacular. I was inspired by a ballerina bun that a girl could do herself at home. I pulled the hair back into a low ballerina bun and raked my hands through it for a bit of a natural airy, texture, while finishing with Redken's Fashion Work 12 Versatile Working Spray and topping off some of the models' hair with a floral embellishment. The hair is a fun, beautiful look that doesn't take away from the clothes."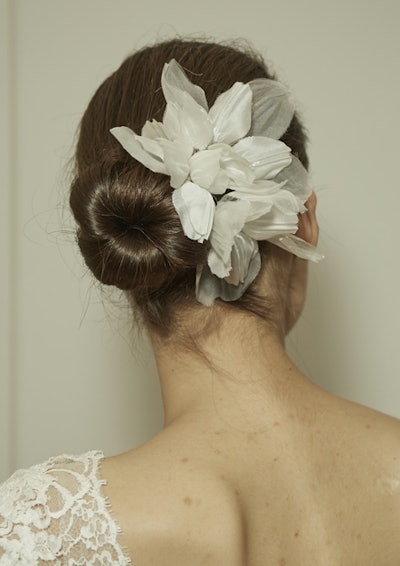 To recreate the look, follow these steps:
Prep hair with Redken Guts 10 Volume Spray Foam for volume and light texture.
Blow dry the product through the hair with flat brush, brushing the hair away from face.
Using a 1" curling iron, curl throughout the length for added texture.
Using your fingers, rake hair back into a not-too-tight ponytail, allowing baby hairs to fall.
Taking the length of the ponytail, fold hair in half into itself to create a modern ballerina bun.
Utilize bobby pins as needed to hold the bun.
Finish with Redken's Fashion Work 12 Versatile Working Spray to add soft hold and shine.
[Images courtesy of Redken]