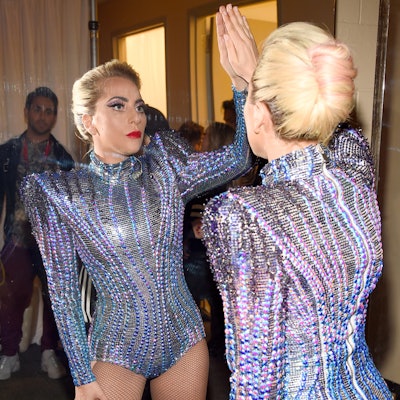 The Super Bowl isn't just about the game — the halftime performance is one of the most widely anticipated musical events on the American calendar, and this year was no different. Lady Gaga blew the audience away with her incredible performance at Super Bowl LI, thanks, in part, to her stylist Frederic Aspiras who made sure the super star's locks were on point for her big moment.
"Earlier this week after we aligned on the style; we touched up her blonde to ensure it was bright for this big night," said Aspiras. "I used Light Master mixed with Matrix BOND Ultim8, which protected her hair bonds and prevented damage during the processing. I love it because it doesn't take any extra time, you can just add it to your color formula! We also dip dyed her ends a pastel pink with Matrix Color Sync Watercolors.
"For [her Super Bowl] performance, we had to ensure her flowing hair tendrils stayed flowing and in place," Aspiras added. "It is important to know how to layer your hair products and Matrix products make it very easy for you to do that."
Lady Gaga started the halftime show with a classic French twist before finishing the night with her strands flowing free. Recreate both looks — plus her gorgeous blonde — with the how-tos below!
COLOR FORMULAS
Lightener Formula:
Two scoops Light Master & 2 ½ oz. 20 Volume MATRIX Cream Developer & BOND Ultim8 Step 1
 
Formula A:
1 ½ oz. Color Sync SPGV & 1 ½ oz. 10 Volume MATRIX Cream Developer & BOND Ultim8 Step 1
 
Formula B:
1 ½ oz. Color Sync Clear & ¼ oz. 10P & ¼ oz. Watercolors Quartz Pink & 2 oz. 10 Volume
MATRIX Cream Developer & BOND Ultim8 Step 1
COLOR HOW-TO:
Apply Lightener formula approximately one to two inches off scalp to create a shadow base. Lighten to pale yellow or up to 50 minutes, rinse thoroughly. Cleanse and towel dry.
Next, melt two formulas together by applying Formula B to the mid-lengths and Formula C to the ends, process up to 20 minutes. Rinse thoroughly. Apply BOND Ultim8 Step 2 and process for 10 minutes. Rinse, cleanse and condition with Total Results Color Obsessed Shampoo and Conditioner.
LOOK ONE: FRENCH TWIST
Wrap hair up into a French twist knot and secure with pins. The traditional but simple twist, leaving the ends out and make them into a knot. This allows for the hair to drop and still be bouncy and smooth.
Once up in the French twist knot, spritz with more Matrix Style Link Style Fixer Finishing Hairspray to tame any fly-aways and loose pieces.
LOOK TWO: FREE FLOWING
Blow-drying and hot tools can wreak havoc on hair, especially if it's done frequently. Wash with Matrix Biolage R.A.W. Recover Shampoo and Matrix Biolage R.A.W. Re-Hab Mask. After cleansing, detangle and towel dry. Apply Matrix Style Link Mineral Airy Builder Dry Texture Foam from root to tips.
Section hair accordingly and blow-dry using a large boar bristle brush. Spray Matrix Style Link Heat Buffer to each section as you dry. Layer Matrix Style Link Smooth Setter to the mid-section and ends to add that extra hold and smoothness.
Blow-dry the sides of hair away from the face, the back sections downward flipping out the ends, and the top of head forward then rounding it up.
Curl the top and sides of the head using a medium barrel curling iron. Curl the back of the head using a large barrel curling iron. Pin the curls with clips as you go.
Allow the curls to cool for about 10 minutes. Remove clips and brush out with a large paddle brush. Spray Matrix Style Link Texture Builder Messy Finish Spray to the whole head then piece out curls and style away.
Once you have finished, give the look a good shot of Matrix Style Link Style Fixer Finishing Hairspray.
In addition, Matrix Artistic Directors Nick Stenson and Danielle Keasling along with a team of Matrix Artistic Educators, Lauren Vega, Victor Mendoza, Guillermo Pieri, and Vicky Yeremchuk styled Lady Gaga's backup dancers' looks. Intricate braids and tons of texture reigned supreme.