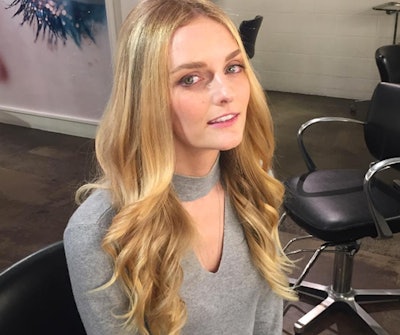 Matrix celebrity stylist George Papanikolas recently transformed model and socialite Lydia Hearst from her previous red to a soft, summery blonde. The gorgeous, buttery shade took a total of eight hours to create, but Papanikolas was able to achieve the new hue with minimal damage thanks to Matrix's BOND Ultim8 Bond Protecting System.
"This is a pretty drastic change we did – going from red to blonde. She is a natural blonde so we're going back to where her base is," says Papanikolas. "The good thing is, she let her roots grow out for the last two months so we had about two inches of her natural [color] to work with. We went with a little more depth at her roots and soft delicate highlights throughout so the grow-out would be easier too. Since this change can be harsh on the hair, we wanted to be able to space out time between highlights."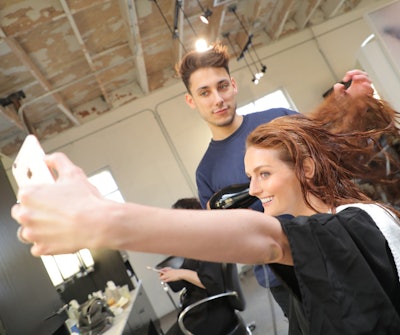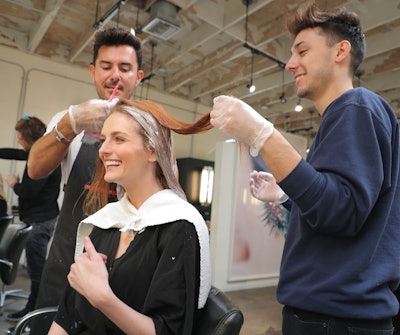 To get the look, Papanikolas had to first strip all traces of red from Lydia's hair. "The transformation requires multiple steps to get there… starting with stripping out the red from her color," he says. "That's the hardest process on the hair."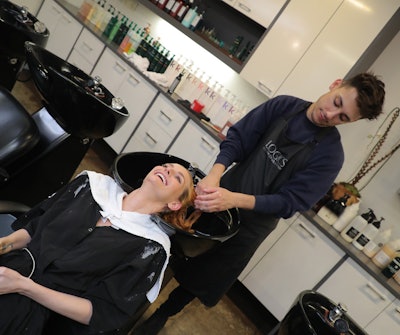 Once the stripping process was completed, it was time to add in those golden tones. "Once we stripped the red, we added back in a dark golden blonde, close to her base, then highlighted and toned over that," adds Papanikolas. "Over the next few weeks and months we'll be refining and perfecting the color. It's a very time consuming process that needs to be babied."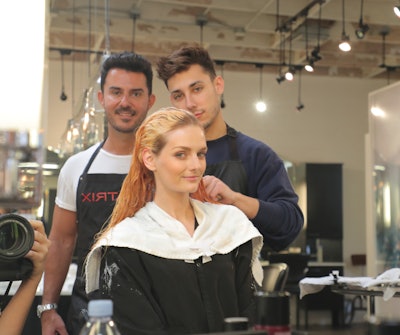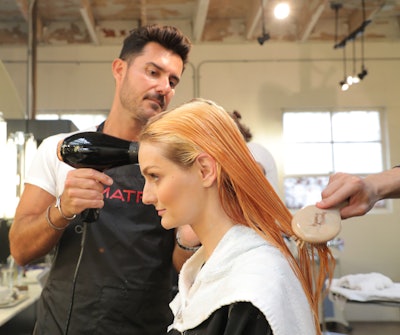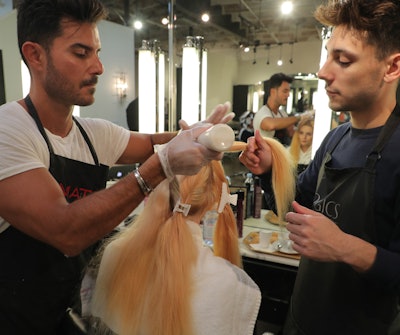 For clients looking for a similar transformation, Papanikolas advises hairstylists to trust their instincts. "It's also up to the colorist to make a judgment call about how light the hair can go when doing transformations such as this," he says. "I don't ever recommend stripping the hair more than twice in one session. If you notice that the texture of the hair is starting to get compromised, then you need to stop at that point. Sometimes that means the client doesn't leave with as cool or pale of a blonde as they may have wanted. But the darker tone will be necessary to preserve the integrity of the hair."
So, how did Papanikolas get such a drastic new look without leaving Lydia's hair destroyed? "Damage is the number one concern whenever you're doing a drastic color change. That's where Matrix BOND Ultim8 Bond Protecting System really allows me to push the boundaries," he says. "This system is key to help protect bonds during lightening, deeply nourish and prevent hair breakage. BOND is comprised of three steps that require no additional process time in the salon. Lydia was in the chair for eight hours, so imagine if it was longer! The first two steps are completed in the salon and the last is done as an at-home treatment, which Lydia will do weekly."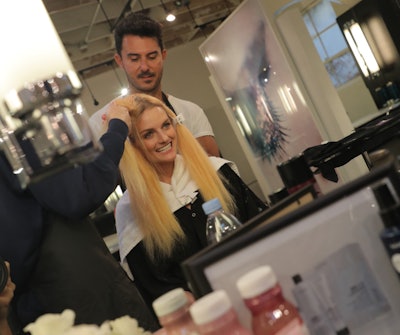 As far as color maintenance is concerned, Papanikolas says, "In addition to damage, whenever you're doing a major color change you could have a lot of problems to deal with – from fading to dryness of the hair. I always recommend Matrix Total Results Hello Blondie Shampoo and Conditioner because that's going to keep it vibrant and in the best condition. I also like to follow up with the Matrix Biolage R.A.W. Re-Hydrate Mask to really hydrate the hair and keep the moisture in."
Recreate Lydia's transformation in the salon with Papanikolas' color formula, below!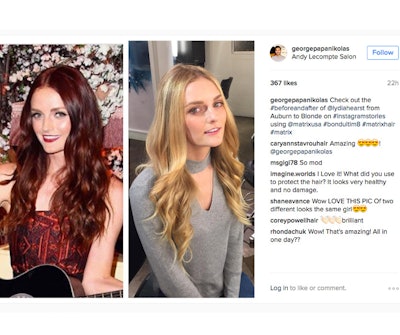 Get the Look:
 
Highlights:
2 scoops Light Master & 4 oz. 40 Volume MATRIX Cream Developer & 8ml BOND Ultim8 Step 1 Amplifier
 
Base & Lowlights:
Equal parts Color Sync 7N 10 Volume MATRIX Cream Developer
For more from Papanikolas, follow him on Instagram @georgepapanikolas.