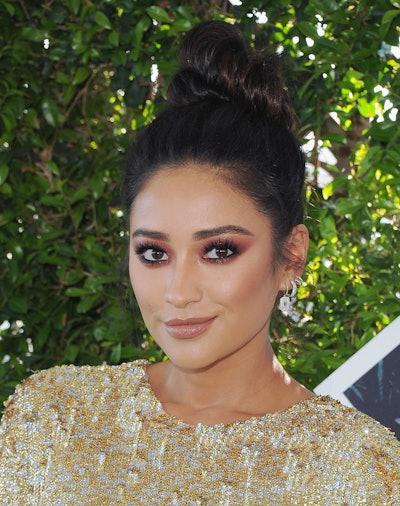 Actress Shay Mitchell of Pretty Little Liars walked Sunday night's Teen Choice Awards red carpet looking stunning in a glittering gold dress, ornamental topknot, and glam makeup. Celebrity makeup artist Patrick Ta, who created Shay's mauve eye and dewy skin look, said, "Shay was my first celebrity client when I moved to Los Angeles. I have been working with her now for over 3 years. [This was] our third Teen Choice Awards together and we wanted to do something fun and different. We know what works and what doesn't on her by now! Shay loves to look glamorous and glow-y. The [inspiration] for her look today came from her stunning dress. It is a Cavalli gold and silver long sleeved dress, so we wanted to give her glowing and dewy skin, but do a brown-purple-red shade on her eye because we thought it would unexpected!"
Recreate this glamorous look for your client's next big night out with Patrick's how-to below!
Get the Look:
"SKIN: Start with a clean face by washing with La Mer facial refining cleanser to remove any dead skin," says Patrick. "Apply moisturizer from La Mer to give your client's complexion a luminous and smooth base… Then, use Smashbox Photo Finish Foundation Primer to make sure the makeup photographs beautifully.
"FACE: Spray face with Smashbox Photo Finish Primer Water. Lightly apply a foundation that has a glow to it to ensure your client's complexion will look clean and bright. Lightly contour the hollows of the cheeks to accentuate cheekbones using Smashbox Contour Stick. Blend out with a beauty blender and use Smashbox Step by Step Contour Kit in the medium shade to accentuate the contour pigment. Then, apply Smashbox Bronze Lights in suntan matte to the contoured areas. To highlight under the eyes, use concealer in two shades lighter than your foundation to bring light to the face. Powder under the eyes with the yellow powder from the Smashbox Step by Step Contour Kit in the medium shade - this will help hold the concealer in place and brighten the skin. Then, add a flesh-toned blush to the apples of your client's cheeks. Make sure to blend into your contour for a healthy flush. For this, I used the L.A. Lights Blush in Malibu Berry. Add a highlighter on the halo of the face - for this, I used the Smashbox Halo Highlighting Wand in Warm Gold. Finish the face off with a translucent powder to ensure long-wear. Spray the face with a setting spray to give skin a natural, luminous finish.
"EYES: I wanted the eyes to look sultry! To achieve this, use a warm brown shade in the crease. Pack rich berry blush on to the lids, mixed with the dark shade from the Photo Matte Eyes Palette. Color the inner waterline using Smashbox Limitless Eye Liner in Onyx. This will create depth and add drama. Curl lashes and coat twice with Smashbox Full Exposure Mascara.
"BROWS: To create a thicker brow, apply an eyebrow pencil in a shade one shade lighter than your client's natural brows. Here, I used Smashbox Brow Tech Gloss Stick in the brunette shade. I love this pencil because it is thin and you can draw hair-like strokes very easily.
"LIPS: To complete the look, apply Smashbox Always Sharp Lip Liner Rosebud to match the lips with the blush. Use Smashbox Be Lengendary Matte Lipstick in Safe Word and top it off with clear gloss."