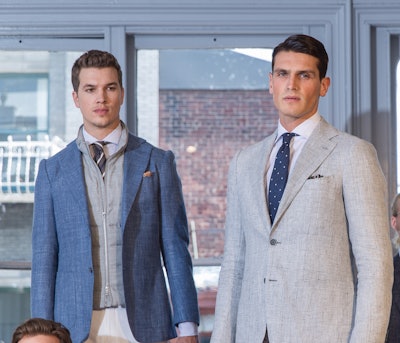 For the Suitsupply show at Men's Fashion Week, lead stylist Manny Padron for GO24.7 created simple, sophisticated hairstyles based on each model's individual hair type. "I worked hard to keep the hair effortless and true to its natural character; we focused mainly on shape and silhouette," said Padron. "The look was refined, classic and simple. Each model had a different hair type so I didn't want to force it against its nature. I primarily used GO247 products but I did prep each model with Unite's 7 seconds leave in conditioner."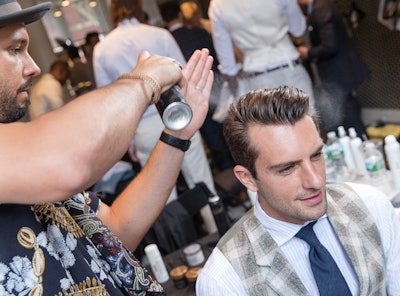 Perfect for any occasion, recreate this stylish look with the how-to below!
Get the Look:
Blow-dry hair to work out any product using hands, making the root move up and around.
Apply a nickel-size amount of styling cream to hands, breaking up with fingertips until product is translucent.
Using fingertips, start applying products on the sides and back working with the natural motion of the hair. The key is to focus on shape and balance to create a pleasing silhouette.
Using a small round brush and the blowdryer, move the hair back and up as to create a lifted textured look.
Find a natural part and, without defining the part, split the hair to balance the face shape, slice the silhouette and make the look balanced.
Finish with Control Spray to lock in the style, immediately running fingers through just-sprayed hair to loosen the hold and break up the style.