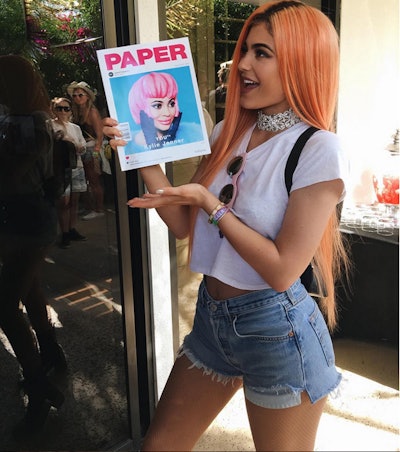 Reality star Kylie Jenner attended Coachella last weekend sporting a creamy peach hair color. Celebrity hairstylist and COLOR.ME Director of Education, Kate Reid says, "Known for her color chameleon ways, Kylie Jenner did not disappoint at Coachella! A great evolution from pinks and rose golds, Jenner's latest peachy look is bold, feminine and fierce. What makes this look work is the soft edge of the orange shade, creating almost a salted or dusted feeling."
Recreate this peach bellini hue - perfect for your clients' upcoming festivals and for sunny summer days - with Reid's how-to!
Get the Look:
Pre-lighten hair with KEVIN.MURPHY CREAM.LIGHTENER + CREAM.ACTIVATOR 20 VOL (6%).
Gently cleanse the hair with KEVIN.MURPHY BALANCING.WASH and KEVIN.MURPHY BORN.AGAIN.
Apply KEVIN.MURPHY STAYING.ALIVE to even out the porosity of the hair before applying toner.
Refine using 11.2 + 8.4 + ORANGE + CREAM.ACTIVATOR 3.5 (VOL.) 1%.
Repeat steps 2 and 3 above.
Blow-dry and style as desired (Reid used KEVIN.MURPHY SMOOTH.AGAIN and SESSION.SPRAY to for Kylie's smooth, luscious look!).