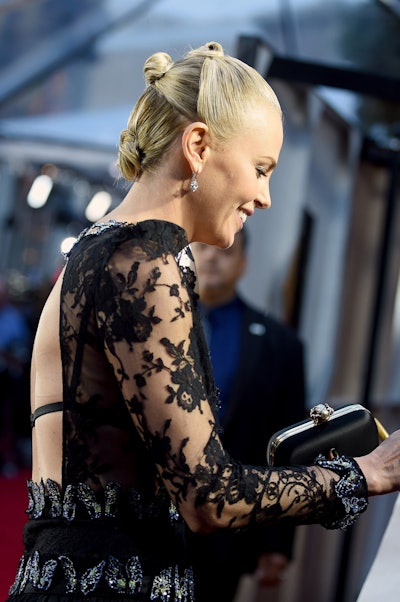 Celebrity hairstylist Enzo Agileri created this sophisticated, futuristic updo for Charlize Theron's walk down the red carpet at last night's MTV Movie Awards. "I wanted to create a very modern, minimalistic look to compliment her Alexander McQueen dress," said Agileri.
Get the Look:
"First, I blow-dried the hair using the ghd air with a round brush," says Agileri. "Charlize's hair is naturally wavy so once dry, I used the ghd platinum styler to straighten the hair and achieve the sleek texture needed.
"Once the hair was sleek and straight, I started at the hairline and pulled the hair back tightly, leaving no part in the hair. After pulling the hair back, I divided it into 3 sections, and put each section into a ponytail.
"I created three buns with each of the sections, the first one at the crown of her head, the second in the middle and the third at the nape of the neck. The buns were formed by wrapping the pony tail in a counter-clockwise rotation and fastening each bun with a bobby pin. The objective was to create a clean, geometric style.
"I finished the look with a shine spray."