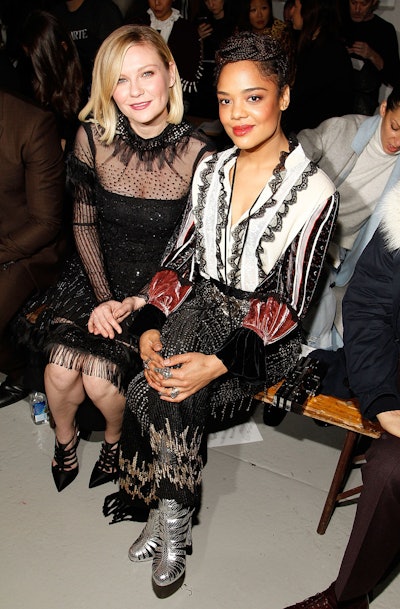 Actress Kirsten Dunst (left) and actress/musician Tessa Thompson (right) were both spotted sitting front row at Rodarte's recent Fall/Winter 2016 show during New York Fashion Week. The pair rocked two distinctly beautiful looks, both styled by OSiS+ by Schwarzkopf Professional. While Kirsten opted for a sleek, classic blowout, Tessa went for elegantly piled braids. Recreate each look with the how-tos below!
Get the Look: Kirsten Dunst
Styled by celebrity stylist Jorge Buccio
Apply OSiS+ Grip Extreme Hold Mousse all over damp hair for optimal volume and hold.
Section the hair and begin to blow-dry from the back, then the sides, and finish on the front.
After the blowout was finished, Buccio applied BC BONACURE Extra Sealer to add shine, protect from humidity, and seal in the cuticle.
He gently applied OSiS+ Elastic Flexible Hold Hair Spray to one side, and tucked behind the ear and the crown area for control while still maintaining a soft, moveable look.
Get the Look: Tessa Thompson
Styled by Joe Espinoza
To start, Joe sprayed BC Bonacure Oil Miracle Oil Mist for Fine to Normal Hair light on dry hair to soften hair and prep her braids.
Next, he sectioned the top into a large mohawk-like section and then proceeded to braid it forward. He created a crown braid on top by braiding the sides, and back, incorporating it to the crown.
Then, Joe French-twisted the back in a braided matter by creating a braided up-style with the crown braid on top.
He finished with OSiS+ Mess Up Matt Gum to soften the hairline and to control fly-away hair. Finally, he added OSiS+ Elastic Flexible Hold Hairspray for hold and OSiS+ Sparkler Shine Spray for final touches of shine.