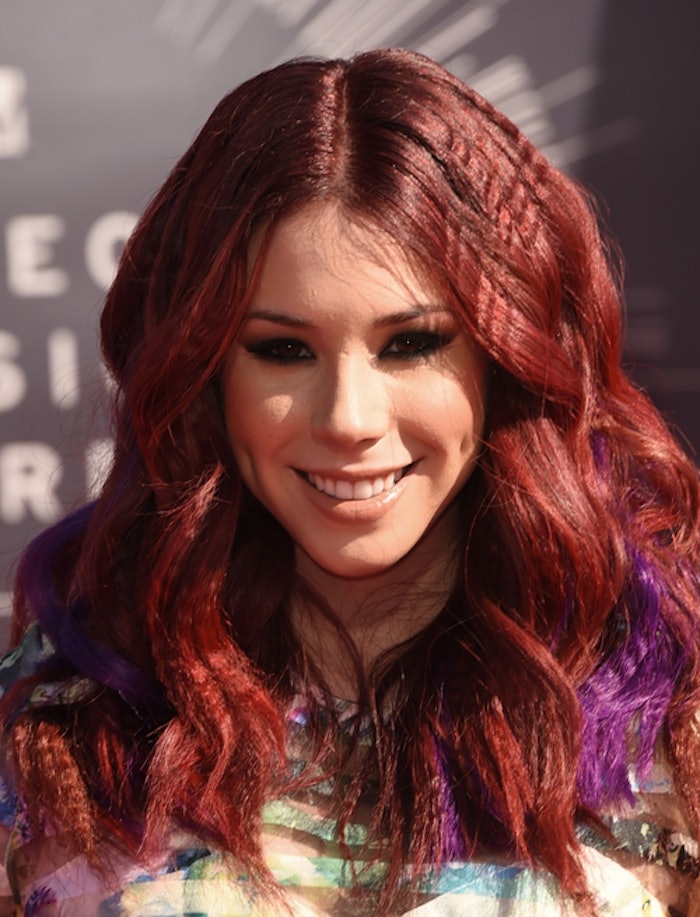 Redheaded actress Jillian Rose Reed known for her expressive and outgoing role of "Tamara" on MTV's Awkward, stepped onto the MTV Video Music Awards red carpet tonight sporting a cool, new cast to her signature red haircolor and a playful, textured hairstyle.
 
Top color artist Stacy Heitman of Sally Hershberger Salon in West Hollywood created Jillian's haircolor using "healthy hair" color formulas from Joico.  To achieve the vivid base color, she combined Joico Vero K-PAK Color 7XR + 5XR + 7N.  After processing, she prelightened random sections, concentrating on midlengths and ends for a modern balayage effect.  Then she glazed the prelightened hair, alternating three Joico shades—Joico Vero K-PAK Chrome Concentrate RR and NEW Joico Vero K-PAK Color Intensity shades: Orchid and Light Purple.  "I felt that combining these three shades would really give Jillian's red hair dimension and vibrancy on the red carpet," explained Stacy.
 
Inspired by Jillian's playful cropped top and colorful mini, celebrity stylist Paul Norton, also from Sally Hershberger Salon in West Hollywood, opted for a lively, textured, style.  To get the look, he instructed Jillian to shampoo and condition her hair with Joico Color Endure sulfate-free shampoo and conditioner. He applied NEW Joico Heat Set Blow-Out Perfecting Crème to her damp hair and gently tousled the ends as they air dried.  Throughout the top and fringe sections, he dried Jillian's hair with a round brush and blow dryer to encourage lift and volume.
 
Next, he misted her hair with the NEW Joico IronClad Thermal Heat Protectant Spray, working in sections from bottom to top.  Returning to the bottom, he used a two-inch crimping iron to crimp random, alternating sections from bottom to top, throughout the entire head.  Once the crimping was consistent and complete, he selected additional random sections and twirled them around a one-inch curling iron, alternating the direction of each spiral to create Jillian's unique finished texture.  A final application of another NEW Joico product, Flip Turn Volumizing Finishing Spray,completed the look.
 
"The Bohemian curl, the edginess of the crimped texture and the addition of the cool, purple tones to her red haircolor really brought Jillian's VMA look together," says Paul.  "It was perfect for her outfit and for the spirit of the occasion."
 
Showing her fun and vibrant haircolor, the young actress Instagrammed photos, with her glam team (as did Paul Norton) days before the event and then of her final look just hours before red-carpet time. Her rich and healthy haircolor, thanks to Vero K-PAK Color, went perfectly with her young and flirty floral print top and matching skirt, while Joico's NEW Vero K-PAK Color Intensity Orchid and Light Purple shades added extra pop to dazzle on what's often known as the fun and lively, VMAs red carpet.
[Image: Jason Merritt/Getty Images]