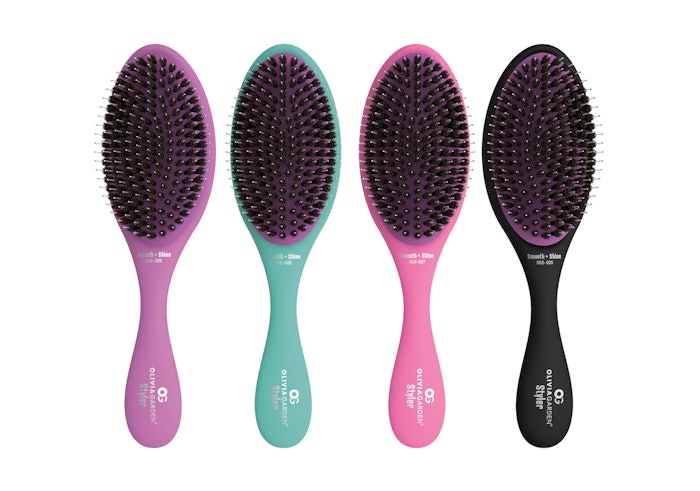 Courtesy of Olivia Garden
Olivia Garden continues to trailblaze, creating a more sustainable salon professional industry with the launch of their Recycled OG Brush Collection.
Made from 100% post-consumer recycled plastic, excluding the cushion and bristles, the new brushes are as versatile as the original OG Brush Collection, but kinder to the earth.
Featuring both styling and detangling options, for use on wet and dry hair, this collection offers hairdressers everything they need behind the chair. The new Recycled OG Brush Collection brushes, made from recycled household appliances, feature the same market-changing innovations the original OG Brush Collection brought during its launch in 2019 — a detachable cushion that allows stylists to keep brushes clean at all times.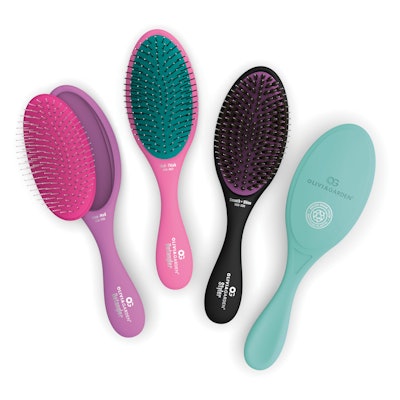 "Continuing our commitment to creating a better, greener industry it was a no-brainer to rethink some of our most relied-on products," Anna Maza, Olivia Garden co-owner, said. "Our goal as we expand our sustainability initiatives is to do so in a way that still best serves hairdressers, providing them with an eco-friendly alternative to their favorite tools is just the tip of the iceberg."
The Recycled OG Brush Collection consists of handles in four colorways (purple, turquoise, pink, and black) and three brush cushion colors (pink, teal and purple). The uniquely designed and patented brush cushions are color-coded by their bristle type:
Pink Cushion: The Detangler for fine to medium hair is equipped with special bristles for gentle detangling of wet and dry hair.
Teal Cushion: The Detangler for medium to thick hair is designed with bristles that painlessly detangle tough snags in thicker hair with its comfortable ballpoint tips.
Purple Cushion: The Styler Brush has a special blend of boar and nylon bristles designed to eliminate frizz and fly-aways while giving hair a smooth, shiny finish.
The Olivia Garden Recycled OG Brush Collection is available for purchase at www.oliviagarden.com as well as at select Olivia Garden retailers.