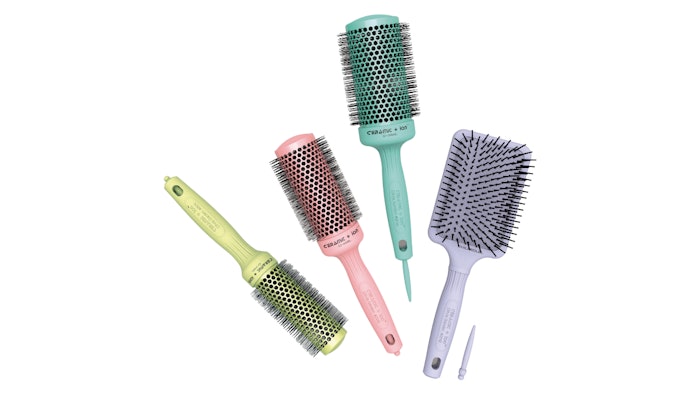 Courtesy of Olivia Garden
Olivia Garden celebrates spring with the release of their limited edition Ceramic and Ion Blossom brushes.
With three different-sized thermal barrel brushes and a paddle brush, Olivia Garden gives stylists an opportunity to own brushes that suit their style. As the most recent addition to the Olivia Garden catalog, these incredible brushes boast beautiful spring colors sure to brighten any brush collection.
Featuring a fast-heating ceramic barrel and heat-resistant bristles, the thermal brushes maintain their temperature allowing for quick and long-lasting styles. Available in three sizes, stylists have full control over their craft, especially with the thermal brushes' extra-large vents that allow for expedited dry times.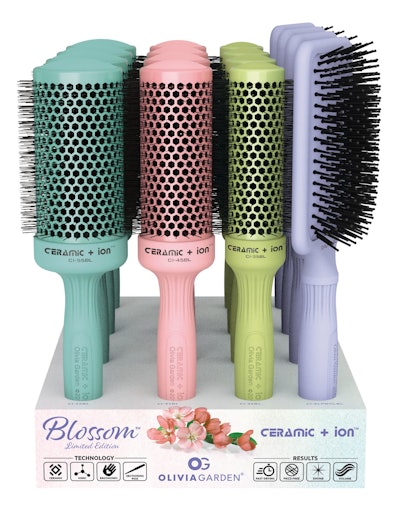 Expanding the ever-beloved Ceramic + Ion collection, the Blossom brushes bear the comfort and ease of use expected of the Olivia Garden brand. With the signature ergonomic design of all Olivia Garden brushes, this collection creates a colorful new way to style. Including soft, gentle-on-the-scalp bristles, these brushes were crafted with not just stylists in mind but their clients as well.
With its soft, flexible cushion for scalp comfort, the paddle brush included in this brilliant, limited-edition collection provides as much comfort as it does utility, with gentle ballpoint bristles and anti-static technology. Providing snag and frizz-free styling, this beautiful lavender brush is a welcome addition to any salon or home-styling setup.
Of this exciting new launch, Olivia Garden co-owner Anna Maza said, "We are delighted to launch our Ceramic + Ion Blossom Collection. With all our products, quality is imperative; however, it's also our responsibility to provide products for our customers that best represent them. The Blossom brushes are the perfect opportunity to do so." 
For a limited time only, the Olivia Garden Ceramic and Ion Blossom Brush Collection is available for purchase on the Olivia Garden website, www.oliviagarden.com as well as select Olivia Garden retailers.