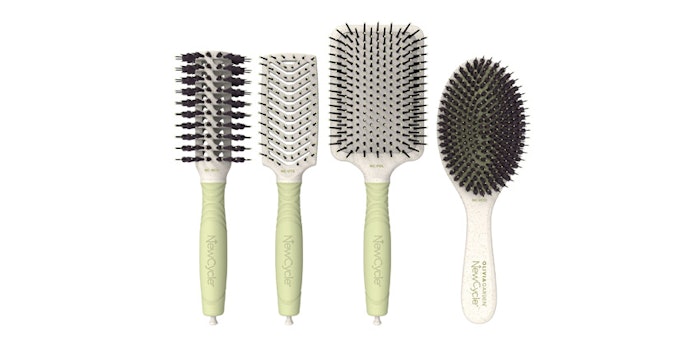 Courtesy of Olivia Garden
This collection features four professional styling brushes, made from 100% recycled materials. 
When asked about the new collection, Olivia Garden CEO Anne Maza, said, "Obviously when you manufacture products that are  made with plastic, the onus lies with the company to do so responsibly. We know that our production practices will have an impact on generations to come and we are committed to making that impact as positive as possible. The NewCycle collection is just the tip of the iceberg for sustainability at Olivia Garden."
The NewCycle Styling Collection provides a brush for every technique, including:
Round Smoothing Brush- Heat resistant vegan boar bristles, ideal for creating volume or straightening.
Vent Styler Brush- Large vents maximize airflow for faster and better styling.
Smoothing Paddle Brush- Heat resistant vegan boar bristles provide superior styling and daily care for all hair types and extensions, leaving a smooth and shiny finish.
Large Paddle Brush- Great for detangling, brushing and styling, as it hydrates the cuticle, adds shine, eliminates frizz and flyaways.