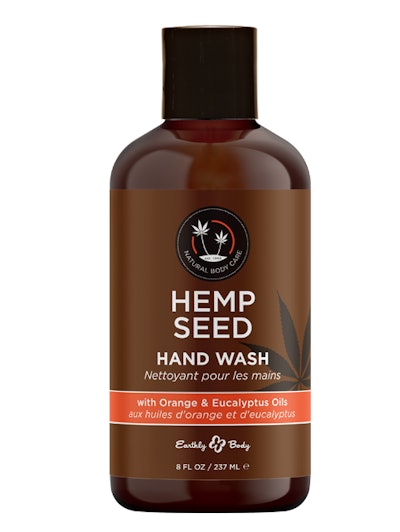 Since the phrase "Wash your hands" has become ubiquitous over the past few weeks due to the coronavirus outbreak, many have discovered just how drying constantly washing their hands can be. That's in part why we were so excited to hear about Hemp Seed Body Care's newest addition to its line, the Hand Wash. This nutrient-rich hand wash combines cleansing ingredients like eucalyptus and green tea with gentle exfoliants and moisturizers to keep hands clean, hydrated and free from dryness or cracking with every wash. But, perhaps even better than that is the fact that a portion of all sales from the Hand Wash will go to the Get Together Foundation, a nonprofit organization established by the cofounders of Hemp Seed Body Care's parent company, Earthly Body, Kevin and Mare Wachs. Committed to action, the Get Together Foundation offers immediate assistance in the form of aid, care and comfort to families and Individuals Experiencing Homelessness (IEH). They provide full-service support—food, clothing, shelter—to Los Angeles' most vulnerable citizens, including those who are not in proximity to traditional mission services.
"We're extremely excited to release this unique, yet affordable hand wash. And in the midst of the recent extra push for cleanliness, we're proud to announce that our Hand Wash is even better than antibacterial soap," states Earthly Body CEO, Kevin Wachs.
Like all Hemp Seed Body Care products, the main ingredient in the Hand Wash is hemp seed oil. Known for moisturization, hemp seed oil is hydrating and will ensure that hands won't dry out after frequent washing. TheeEucalyptus, tea tree oil, and orange peel oil cleanse and purify skin. Green tea extract has high antioxidant properties, which aids in protection from environmental factors. The Hand Wash naturally exfoliates hands with the gentle texture of pumice to aid in removing impurities.
Recently, the FDA claimed that "there isn't enough science to show that over-the-counter antibacterial soaps are better at preventing illness than washing with plain soap and water."  They're also not as good for the environment as naturally-derived alternatives. Hemp Seed Body Care believes that this 100% natural hand wash is a timely offer that extends mother nature's cleaning power to all of us, a power that we probably need more than ever before.
Hemp Seed Body Care's Hand Wash can be purchased online at www.hempseedbodycare.com for $9.99.
Committed to creating products that are good for people and for the Earth, the Hand Wash, along with all other Hemp Seed Body Care products, uses natural ingredients – no petroleums or mineral oils. It is 100% vegan, drug-free and cruelty-free. Products are never tested on animals and are included on PETA's "No Test List" and are Leaping Bunny Certified. The Hand Wash also comes in recyclable packaging and is produced in Earthly Body's solar-powered facility.