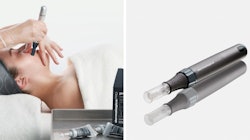 Dermalogica's Pro Pen is a unique microneedling and nanoneedling system created with precision, versatility and safety in mind. The Pro Pen follows medical grade standards of manufacturing and has ergonomics for maximum procedure and treatment precision. The device is only sold exclusively to licensed skin therapists in accordance with state regulations. The Pro Pen includes the pen, two batteries, one battery charger, power cord and plug and instruction manual. 
Pro Pen comes with four cartridges for a variety of customization options:
9-pin tip with very fine (.18mm) needles offers controlled, precise perforation and maximum penetration.
24-pin tip (.25 mm) is carefully positioned for gentler needling, ideal for thin or sensitive skin.
5D metal nano tip ideal for large surfaces, while the silicone nano tip targets smaller, more precise areas such as the eyes and lips.
To further enhance results, Dermalogcia created Pro Restore which is designed to work with micro-injury skin treatments such as microneedling, fibroblast skin tightening, lasers, and chemical peels to help support the skin to decrease downtime, improve skin recovery and help clients see results faster. The complex of active ingredients also prepares the skin's barrier, restores its condition, and helps increase the appearance of firmness and brightness to the skin. 
310-900-4000, www.pro.dermalogica.com