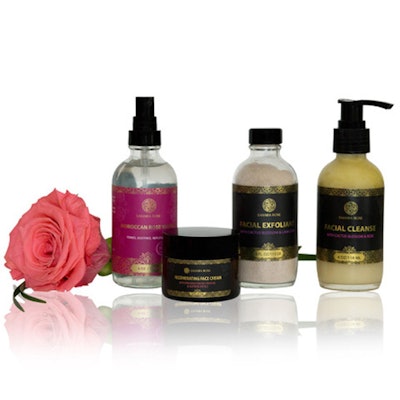 For those looking to incorporate more natural products into their beauty routine without compromising quality, Sahara Rose is a natural luxury skincare brand that mixes ancient beauty rituals from the Mediterranean and the Sahara Desert with modern technology. The Florida-based brand offers a line of facial, bath, body and spa products using time-tested and powerful ingredients that were traditionally used for generations by healers and autochthones in the Sahara; among them prickly pear seed oil, saffron pistils, wild rose and neroli. Recently, Launchpad sat down with the brand's founder, Ikram Elharti, who shared insight into the creation of her unique line of products and beauty secrets from her Moroccan grandmother. 
LAUNCHPAD: What does Sahara Rose mean?
Sahara Rose™ is a rich, sumptuous, natural beauty brand inspired by ancient beauty wisdom. The brand name was inspired by a resilient rose that grows at the entrance to the Sahara Desert in Morocco. The most healing wisdom is found in unique ingredients that have survived the harshest environment and that make powerful skin luxuries. Sahara Rose is proudly made in Florida and we believe in empowering, sustainable beauty. 
LAUNCHPAD: What inspired the creation of Sahara Rose?
Sahara Rose is inspired by all resilient women who share one common trait: They love themselves. Despite their environment or conditions, they are self-aware and they are looking for an all-natural, proven way to take care of and preserve their skin. The brand celebrates these women who are fascinating, intriguing, delicate and demanding. Sahara Rose's natural beauty line of facial skin care, bath, body and spa products are effective and glamorous with unforgettable sensual rituals and scents that transport the senses. Our highest priority is to make women feel treasured using 100 percent natural, clean, nontoxic and powerful skincare. Our collection of skin luxuries is made with the finest ingredients, ethically sourced and are free of harsh synthetic chemicals.  Our products are free of parabens, fragrances and mineral oil, and have not been tested on animals.
LAUNCHPAD: Tell us more about your product line and ingredients. Do you have a hero product?
Sahara Rose uses precious, time-tested and powerful ingredients, traditionally used for generations by healers and autochthones in the Sahara. Most of the ingredients, such as prickly pear seed oil, Marrakesh saffron pistils, wild rose, neroli and other rare ingredients have now been proven by science to be a great source of essential antioxidants, nutrients and powerful moisturizers with amazing anti-aging benefits to the skin.
One of our hero products is the Sahara Rose Regenerating Face Cream with precious saffron and prickly pear oil. The Regenerating Face Cream was just nominated as Best Facial Moisturizer for the 2017 Indie Beauty Awards (IBE NY 2017). The Regenerating Face Cream is made with prickly pear seed oil, saffron pistils and Neroli. The high concentrations of these precious ingredients instantly soothe, heal and nourish skin while adding radiance and luster to tired, dull complexions. Our collection also includes: Sahara Rose Facial Exfoliant, Under Eye Elixir, Divine Body Oil, Body Polish, Sublimating Body Milk and more.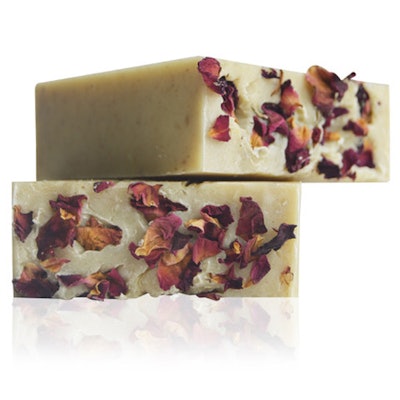 LAUNCHPAD: Tell us how you got to you where are now.
I received a wealth of beauty secrets in my childhood from my Moroccan grandmother. She was a true beauty goddess and healer with ancient inherited remedies and an incredible sense of giving and generosity. She taught me at a very early age the ancient concoctions and also taught me the importance of giving back and sharing. It was after a brilliant corporate career, traveling around the globe, coupled with a busy modern life, consuming on-the-go, all the shelf beauty products that led me to start my line of Sahara Rose products. Plus, I'm living in Florida, with extreme temperaturea, sun damage and radicals that accelerated my skin premature aging, causing irritations and a lifeless, dull complexion. And, coupled with the fact that I got pregnant and started worrying about the stretch marks and the chemical ingredients present in most of the beauty products, I started looking for an efficient and safe miracle to get my glowing skin back. Going back to my roots and to my grandmother was very natural. After just a few days of using her balms, my skin completely came back to life, and was bright and glowing. I felt younger looking, more beautiful and happier.
 
Proudly formulated and made in USA, Sahara Rose works with scientists to develop from scratch and validate all of its formulas. The brand believes in empowering sustainable beauty. It ethically sources its raw materials directly from rural cooperatives of women, small-scale agriculture, and also dedicate a portion of its sales towards unprivileged young girls' education.
 
LAUNCHPAD: Any future plans for the brand?
The main objective of Sahara Rose is to cater to the requirements of modern women who often don't have the time to invest in elaborate skincare routines (as they are busy in their professional and personal lives), while providing safe and non-toxic products. Sahara Rose will continue developing products in line with our mission, as well as expand our distribution channel and points of sale.
For more information or to purchase, visit www.sahararose.com.