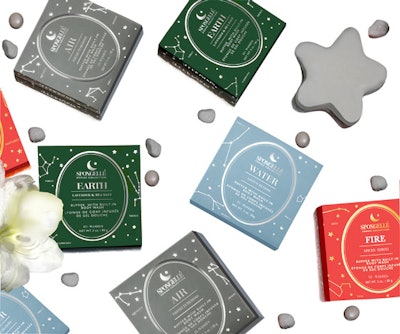 What's your sign? The Spongellé Zodiac Collection delivers a rich, indulgent lather that cleanses, exfoliates, massages and nourishes skin for a softer, silkier feel. Whether you're Air, Earth, Fire or Water, these body wash-infused loofahs will match any and ever beauty style. 
Air (Aquarius, Libra, Gemini): "Fresh Tuberose" Notes of bergamot, fresh air accord, water lily, white amber, ozone, floral, white woods and clean musk.
Earth (Capricorn, Virgo, Taurus): "Lavender and Sea Salt" Notes of fresh ozone, orange oil, sea mist accord, lavender, water lily, driftwood and soothing musk.
Fire (Aries, Leo, Sagittarius): "Spiced Neroli" Notes of pepper, cardamom, nutmeg, cinnamon, birch tar, oud wood, patchouli, sandalwood, amber, vanilla and cedarwood.
Water (Pisces, Cancer, Scorpio): "Lotus Bloom" Notes of watery ozone, ocean greens, delicate water lily, muguet bells, soft woods and soft musk.
The buffers retail for $20 and are guaranteed to last a minimum of 15 washes. They also make great stocking stuffers for the upcoming holiday! To purchase, visit www.spongelle.com.