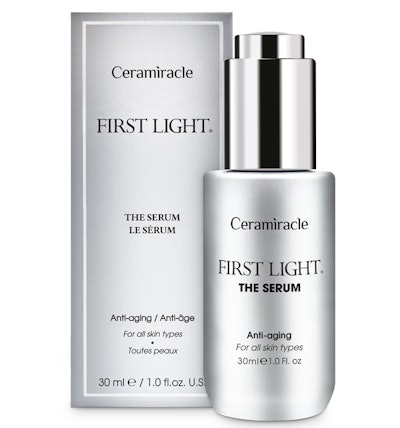 The first gray hair. The first sign of wrinkles. We all know at what point we started to fantasize about the fountain of youth. But who knew the fountain of youth has been with us since day one? Ceramiracle's FIRST LIGHT The Serum harnesses the capabilities of the vernix caseosa—the natural power that provides newborns with hydrated, resilient, and near-perfect skin—for an unparalleled anti-aging experience.
The Story: Reformulating a Baby's "First Beauty Product"
Eugene He, founder of Ceramiracle, has been fascinated by the question of youthful skin since he was young. Considering how a baby's skin manages to stay soft, smooth, and seemingly untouched, Eugene wondered if the answer lay somewhere in the months before birth. After much research, he found that the vernix caseosa—a thick, wax-like substance that covers babies for weeks before birth—acts as a baby's "first beauty product," as it covers, moisturizes, and protects the baby's delicate skin. SO, how could one harness this power, the power of the world's most exclusive skincare product? After two years of tireless work, Eugene created the perfect formula: a plant-derived alternative with all the beneficial properties of the vernix caseosa.
The Product:  Baby-Soft, Radiant Skin Outside the Womb
With the success of their skin supplements, FIRST LIGHT The Serum was the natural next step in bringing younger looking skin to all. Unlike many products on the market, FIRST LIGHT The Serum doesn't just sit on top of the skin but, instead, works with your skin to strengthen its natural barrier and restore its softness and smoothness. Created with 99% natural ingredients and 95% active ingredients, the serum is fortified with botanical extracts of Wakame cell culture, White lupin seed, and Phytoceramides. The plant-derived formula is also formulated without preservatives, fragrance, silicone and other nasty chemicals, and is 100% water-free, mimicking the intense hydration and skin nourishing properties of the vernix caseosa. The serum works wonders on all skin types, making skin look younger, firmer, and more radiant after just one application. It also provides enough hydration that it doesn't even need to be worn with moisturizer!
FIRST LIGHT The Serum makes your skin look and feel reborn. Now, with the release happening on August 29, 2017, the womb won't be the only place you can get baby-soft, radiant skin. FIRST LIGHT The Serum is available for $89 on ceramiracle.com.
[Image courtesy of Ceramiracle]