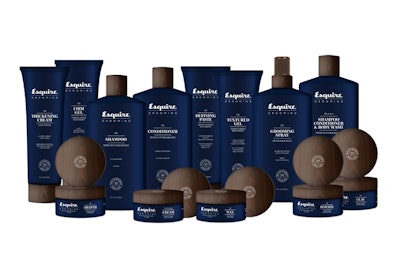 The broad-scale hair-care line is geared towards men's grooming is a first for Esquire.
Farouk Systems Inc., the maker of BioSilk, CHI and Kardashian Beauty, and Hearst Magazines, the publisher of Esquire, have announced the launch of The Esquire Ultimate Grooming Collection in professional salons nationwide in October 2016 through an exclusive partnership with Beauty Systems Group (BSG). The announcement was made today by Dr. Farouk Shami, founder and chairman of Farouk Systems Inc., and Glen Ellen Brown, vice president of Hearst Brand Development. The launch also included an event in Austin, TX on September 18, 2016 at The Market & Tap Room were over 400 invited guests and media viewed the entire line, ad campaign and look book.
The main focus for the collection was on product performance and unique styling solutions most commonly needed by not only the at-home male groomer but also barbers and salon stylists. This joint effort has led to the formulation of a range of products ideal for barber shops and salons eager to showcase the rising trends in men's grooming, which include the prestige scent of Oud and other key ingredients selected to increase hair density, strength, moisture, and shine as well as promote a healthy scalp and healthy hair growth for men.
The Esquire Ultimate Grooming Collection is also an extension of the magazine's philosophy of "Man at His Best," a lifestyle focused on luxury, sophistication and style. Esquire has built an 83-year legacy as the essential modern guide for living well, attracting the early adopters and high-end consumers who appreciate the art of taking their wardrobe—and now grooming—to the next level. This unique collection of hair styling and grooming products – including shampoos, conditioners, pomades, gels, waxes, and styling tools that are essential to men's grooming today – is a tacit endorsement of expertly formulated products that men can rely on.
Shami noted, "Our CHI and BioSilk brands are award-winning products that dominate the women's professional hair-care category. Our partnership with Esquire will now allow us to provide men with the same excellence. Farouk Systems, Inc. is also proud to launch this line through our distribution partners BSG, after which the line will then expand to fine barber shops and salons that cater to the male client. The ample shelf space will allow our fellow hairdressers to enter into a unique barber shop experience combined with inspirational imagery, barbering pamphlets and a collection of products that are sulfate-free, paraben-free, and gluten-free."
"The concept behind the collection is to satisfy the desire for a specific and unique series of grooming products that are stylistically and technologically advanced, all with impressive affordability," said Brown. "Farouk has had tremendous success on that front, and this partnership has enabled us to create the ultimate Esquire-approved line of hair-care solutions."