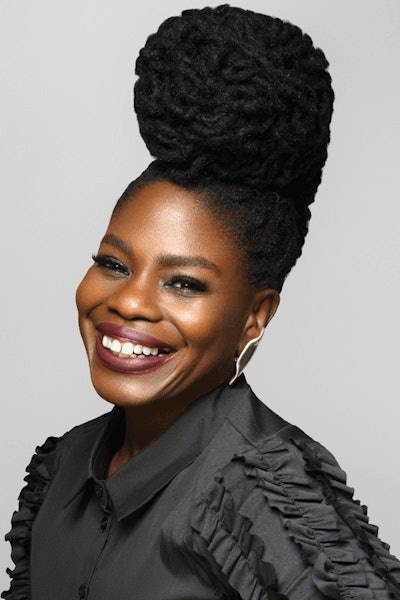 Visit Danessa Myricks' Instagram feed and you'll witness a gorgeous intersection of all skin tones. And they're all shone in a flawless light—a light that this makeup artist has fostered through her impeccable understanding of layering (she follows a "rule of three" for dimension), her eye for macro-level beauty photography (she showcases all of the pore-illuminating images on her IG) and her knowledge of product (you'd be hard-pressed not to find her eponymous line in pro makeup artists' kits). "My makeup philosophy has always been that makeup is art," says the educator and oft-tapped brand consultant. For her own artistry, Myricks admits that, like all creatives, her style has evolved over her 19 years of practice. "Currently, my artistry ranges from creative and artistic to simple, clean and fresh," she says, adding, "The one constant objective is always beautiful, breathable, believable, dimensional skin." Here, the products that help her meet her objective.
RELATED: In My Kit - Makeup Artist Tim Quinn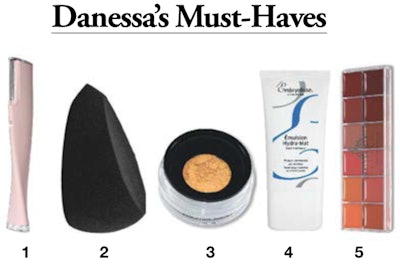 1) For Macro-Level Beauty: Derma ash 2.0 Luxe: "As both a photographer and makeup artist who shoots macro beauty, I know that the details really matter. This handy device not only exfoliates, but it also instantly unveils glowing skin and painlessly removes all the peach fuzz so skin looks amazing on camera."
2) For Seamless Bonding: Esum Pro Finishing Sponge S/2: "It has the ideal ratio of absorption-to-blending, plus its angles are perfect for both detailing and covering large surface areas."
RELATED: In My Kit - Makeup Artist Jared Lipscomb
3) For Natural-Looking Skin: Danessa Myricks Beauty Evolution Powder: "It's great for photography as well as lm and TV. It was developed and tested for 4K and 8K high-de nition [cameras] and photographs like a charm."
4) For Moisture Minus Oil: Embryolisse Emulsion Hydra-Mat: "This moisturizer is ideal for adding hydration to super oily skin."
5) For One-and-Done on Set: Danessa Myricks Beauty Luxe Cream Palettes: "They create the perfect natural lip, hint of ush or creamy eye shadow for every skin tone, and they're super set- friendly."
This story first appeared in the November/December issue of Eyelash magazine. To receive the magazine, click here to subscribe.
[Images: Courtesy of Danessa Myricks; manufacturers]